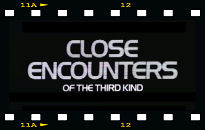 Electrical worker Roy Neary encounters the bright lights of a UFO as he investigates a town-wide power outage. He, like hundreds of other such witnesses, becomes fascinated to the point of obsession with the visitors, unable to shake visions of a towering mountain from his mind. Despite the government's public insistence that nothing unusual has occurred, and his family's embarrassment and discomfort at his behavior, Roy insists that aliens are trying to tell him – and humanity – something important.
Meanwhile, a military-sponsored research team does believe that someone is out there, and they are desperately trying to figure out how and where to communicate with them and how to keep the information secret. But when the aliens take the son of one of Roy's fellow witnesses, they risk everything to find the source of their visions…and to make contact.
screenplay by Steven Spielberg
directed by Steven Spielberg
music by John Williams

/>Cast: Richard Dreyfuss (Roy Neary), François Truffaut (Claude Lacombe), Teri Garr (Ronnie Neary), Melinda Dillon (Jillian Guiler), Bob Balaban (David Laughlin), J. Patrick McNamara (Project Leader), Warren J. Kemmerling (Wild Bill), Roberts Blossom (Farmer), Philip Dodds (Jean Claude), Cary Guffey (Barry Guiler), Shawn Bishop (Brad Neary), Adrienne Campbell (Sylvia Neary), Justin Dreyfuss (Toby Neary), Lance Henriksen (Robert), Merrill Connally (Team Leader), George DiCenzo (Major Benchley), Amy Douglass (Implantee), Alexander Lockwood (Implantee), Gene Dynarski (Ike), Mary Gafrey (Mrs. Harris), Norman Bartold (Ohio Tolls), Josef Sommer (Larry Butler), Reverend Michael J. Dyer (Himself), Roger Ernest (Highway Patrolman), Carl Weathers (Military Police), F.J. O'Neil (ARP Project Member), Phil Dodds (ARP Musician), Randy Herman (Returnee #1), Hal Barwood (Returnee #2), Matthew Robbins (Returnee #3), David Anderson (Air Traffic Controller), Richard L. Hawkins (Air Traffic Controller), Craig Shreeve (Air Traffic), Bill Thurman (Air Traffic), Roy E. Richards (Air East Pilot), Gene Rader (Hawker), Eumenio Blanco (Federale), Daniel Núñez (Federale), Chuy Franco (Federale), Luis Contreras (Federale), James Keane (Radio Telescope Team), Dennis McMullen (Radio Telescope Team), Cy Young (Radio Telescope Team), Tom Howard (Radio Telescope Team), Richard Stuart (Truck Dispatcher), Bob Westmoreland (Load Dispatcher), Matt Emery (Special Leader), Galen Thompson (Special Forces), John Dennis Johnston (Special Forces), John Ewing (Dirty Tricks #1), Keith Atkinson (Dirty Tricks #2), Robert Broyles (Dirty Tricks #3), Kirk Raymond (Dirty Tricks #4)
LogBook entry and review by Dave Thomer

Review: In the era of digital cameras, CGI effects, and space backdrops direct from the Hubble Space Telescope, the aesthetics of late-70s/early-80s science fiction movies might seem terribly primitive. As I watched the Collector's Edition DVD of Close Encounters Of The Third Kind, however, I was struck less by how dated the effects were than by their simple grace and real beauty. The spaceships' bright lights and dazzling colors contrast sharply with the black of the Earth's night sky. (Richard Dreyfus' Roy Neary calls them more dazzling than the aurora borealis, and I don't think he exaggerates much.) The slow, steady, silent motion of the ships conveys a sense of solemnity and awe that's often lacking in modern quick-cut frenetic-action sequences. It's not a matter of the effects calling attention to themselves as much as it is an opportunity for the audience to really take in the kind of sensory experience the filmmakers have in mind. While the approach can certainly be overdone (as I think Stanley Kubrick often did in 2001), there's a lot that the Michael Bays of the world could learn from it. It certainly makes Close Encounters worth watching, even more than 20 years later.
I had never seen Close Encounters before I rented the Collector's Edition package. I enjoyed the film, although perhaps not as much as I had expected to, and the 2-disc set is top notch. Disc One contains an anamorphic widescreen "director's cut" version of the movie that is different from both the original 1977 release and the 1980 Special Edition re-release. (This version first appeared on 1998 laserdisc and VHS releases.) The second disc contains 11 deleted scenes, a 1977 featurette that hyped the project before its release, a 1997 full-length documentary, and information on the principal cast and crew. The 1997 documentary has extensive interviews with all the surviving principal cast (Francois Truffaut passed away in 1984), writer/director Steven Spielberg, and many members of the production team. The on-the-set stories are quite interesting, especially those that explore how Spielberg worked so effectively with three-year-old actor Cary Guffey. Spielberg also explains why he wanted to release a Special Edition (Columbia forced him to have the movie ready before he was really finished) and why he re-edited the Special Edition once again in the late 90s (Columbia only agreed to finance the Special Edition if Spielberg added footage of the inside of the alien mothership, a decision Spielberg regrets). What really struck me, though, was an observation Spielberg makes at the very end, when he says that Close Encounters is really the only one of his movies that personally feels dated to him – Roy Neary's obsession with the UFOs, which leads him first to alienate and frighten his family and then to leave them behind, no longer rings true. The comment struck me because it captured perfectly what I had felt the movie lacked; in keeping the aliens wondrous and mysterious, Spielberg leaves some crucial elements of motivation out of his story. To a degree, this is a nitpick – I still really liked the movie. But it was interesting to see a director look back at a movie that's been listed as one of the hundred best American films of all time in such a critical fashion.
The others extras are worth a look, although the 1977 featurette is essentially an expanded version of the original theatrical trailer. (I love "time capsule" elements like old trailers – they really illustrate how marketing and communication have changed.) The deleted scenes include some interesting pieces of exposition and character development, along with the inside-the-mothership sequence filmed for the Special Edition. In an ideal world, a collector's edition like this would have somehow included all three versions, so that amateur film students and film historians could make their own decisions about Spielberg's creative choices. Short of that, however, the DVD Collector's Edition is an excellent treatment of a fine and significant film.