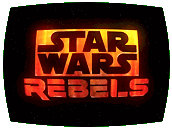 Kanan, Sabine, Ezra and Chopper, fresh from Mandalore, return to the center of Rebel operations on the fourth moon of Yavin…just in time to see Hera, Wedge and other Y-Wing pilots make a barely-survivable emergency landing after a vital mission collapsed due to bad intel. With the Ghost crew reunited, Mon Mothma gives them new orders to modify an Imperial relay station, allowing the Rebellion to listen in. On the eve of the mission, Saw Gerrera transmits a hologram to Mon Mothma, challenging her authority in public: like it or not, war with the Empire is coming…and playing by the rules of engagement will get the Rebellion nowhere. When the relay station mission goes awry, and Saw intervenes, Ezra and Sabine suddenly have a new mission.
written by Gary Whitta
directed by Sergio Paez
music by Kevin Kiner
additional music by David Russell, Sean Kiner, and Dean Kiner
based on original themes and music by John Williams

Cast: Taylor Gray (Ezra Bridger), Vanessa Marshall (Hera Syndulla), Freddie Prinze Jr. (Kanan Jarrus), Tiya Sircar (Sabine Wren), Steve Blum (Zeb / Rebel Officer), Phil LaMarr (Bail Organa / Stormtrooper), Derek Partridge (Commander Brom Titus), David Acord (Edrio Two Tubes), Michael Bell (General Dodonna), Dee Bradley Baker (Imperial Bridge Officer / Rex), David Oyelowo (Kallus), Genevienve O'Reilly (Mon Mothma), Forest Whitaker (Saw Gerrera), Nathan Kress (Wedge Antilles)

Notes: Edrio Two Tubes, introduced in Rogue One: A Star Wars Story (taking place several years after this episode), gets his chronological introduction here, as does the U-Wing fighter first seen in that movie.
LogBook entry by Earl Green