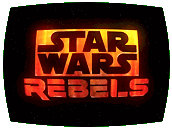 The Rebel fleet prepares to jump to the Yost system, a system rumored to have little or no Imperial presence, a promising site for a future Rebel base. But the Rebels' stolen Imperial carrier doesn't have enough fuel for that kind of hyperspace trip, and more must be stolen from the Empire. The Ghost lands at a remote Imperial depot, but as Hera and Kanan fight their way into an Imperial complex, Chopper is more interested in getting a new left leg. The cranky old droid finds a suitable leg at a nearby dealer of droids and droid parts, but is so preoccupied with this leg that he fails to notice the Ghost leaving without him…
written by Matt Michnovetz
directed by Mel Zwyer
music by Kevin Kiner
based on original themes and music by John Williams

Cast: Taylor Gray (Ezra Bridger), Freddie Prinze Jr. (Kanan Jarrus / Stormtrooper #4), Vanessa Marshall (Hera), Tiya Sircar (Sabine), Steve Blum (Zeb Orrelios / Imperial Officer / Stormtrooper #5), Dee Bradley Baker (Admiral Konstantine / Rex / Ugnaught Shopkeeper), Stephen Stanton (AP-5 / Stormtrooper #1 / Stormtrooper #3), Dave Filoni (Cargo Deck Officer / Stormtrooper #2), Keone Young (Commander Sato), Gina Torres (Ketsu Onyo), James Adomian (Imperial Captain)

Notes: Ketsu had first appeared in Blood Sisters earlier in the season.
LogBook entry by Earl Green