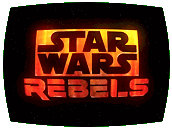 Concerned about Ezra's fleeting taste of the power of the dark side of the Force during a battle with the Inquisitor, Kanan takes the boy to a hidden Jedi temple buried on Lothal. Kanan doesn't give Ezra much of a hint of what to expect, and the Jedi-in-training is subjected to a rapid-fire series of terrifying visions, including the death of all of his friends at the hands of the Inquisitor. Only when Ezra realizes that this would simply leave him alone again – a state with which he is well acquainted – does he shed his fear and begin to walk down the path of the Jedi, with the voice of a long-lost Jedi Master as his guide.
written by Charles Murray
directed by Dave Filoni
music by Kevin Kiner
based on original themes and music by John Williams

Cast: Taylor Gray (Ezra Bridger), Freddie Prinze Jr. (Kanan Jarrus), Vanessa Marshall (Hera), Tiya Sircar (Sabine), Steven Blum (Zeb), Jason Isaacs (The Inquisitor), Frank Oz (Yoda)

Notes: This is the first "appearance" of Yoda – who communicates by voice only through the Force to both Kanan and Ezra – in Rebels. A vision of the exiled Jedi Master was originally part of the story, but the role was reduced to a voice-over to avoid making viewers think that Yoda had left Dagobah. Yoda is instead represented by floating lights similar to those that he witnessed himself in the Clone Wars episode Voices.
LogBook entry by Earl Green