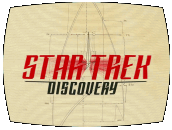 Stardate 1308.9: Having deposited a landing party consisting of Saru, Burnham, and Tyler to the planet Pahvo, the Discovery diverts to answer a distress call from U.S.S. Gagarin, under Klingon attack. Lorca's previous strategy – to drop in out of a spore drive jump and blast every enemy in sight – is no longer a guarantee of success: as more Klingon houses rally to Kol's side, their ships are armed with cloaking devices. Discovery's overwhelming advantage has been negated, and the Gagarin and her crew pay the price for this revelation.
On Pahvo, a planet whose ecosphere audibly sings in a variety of frequencies, boosted into space by a crystalline transmitter that may or may not be of natural origin, Saru's landing party is there to see if that transmitter can be altered in such a way as to help the Federation's war effort. But what couldn't be seen from space is quite visible on the ground: the planet is inhabited by energy beings who are curious about their unexpected visitors. They offer peace to Saru – a peace that he'll willingly betray anyone to keep.
written by Kirsten Beyer
directed by John S. Scott
music by Jeff Russo

Cast: Cast: Sonequa Martin-Green (Commander Michael Burnham), Doug Jones (Lt. Commander Saru), Shazad Latif (Lt. Ash Tyler), Anthony Rapp (Lt. Paul Stamets), Mary Wiseman (Cadet Sylvia Tilly), Jason Isaacs (Captain Gabriel Lorca), Jayne Brook (Admiral Cornwell), Mary Chieffo (L'Rell), Wilson Cruz (Dr. Hugh Culber), Kenneth Mitchell (Kol), Michael Boisvert (Kovil), Conrad Coates (Admiral Terral), Emily Coutts (Keyla Detmer), Anthony Grant (Klingon Communications Officer), Julianne Grossman (Disocvery Computer), Patrick Kwok-Choon (Rhys), Sara Mitich (Airiam), Oyin Oladejo (Joann Owosekun), Ronnie Rowe Jr. (Bryce), Tyler Evan Webb (Klingon Guard)

Notes: The title of the episode translates from Latin to English as "if you want peace, prepare for war", originating in a 5th century written work, "De Re Militari" ("Concerning Military Matters"). This is not the first Star Trek episode to use a Latin phrase as its title; that honor goes to Inter Arma Enim Silent Leges (1999), an episode of Deep Space Nine's seventh and final season.
LogBook entry by Earl Green