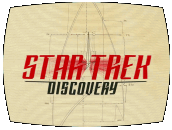 Stardate not given: Anguished by Ensign Tilly's disappearance into an organic alien coccoon, Stamets is refusing to give up on the idea of somehow retrieving her, believing that she has been transported into the mycelial network. Discovery is chasing a shuttle believed to be Spock's, and disables it with a photon torpedo only to discover not Spock inside, but deposed Terran Emperor Philippa Georgiou (now an agent of Section 31) inside. After a terse exchange of information, Georgiou leaves, but not before leaving another Section 31 agent – the recently recruited Ash Tyler – aboard Discovery. Stamets devises a plan to perform a "partial jump" with Discovery's spore drive to enter the mycelial network and recover Tilly, though at great risk to the ship. Inside the network, Tilly is surrounded by any number of things that could kill her…along with May, who says she is the avatar of a race called the Jah'Sepp, which lives in the network and tries to avoid a monster that is killing them. When Discovery slices into the network's dimension, Burnham, Stamets and Tilly discover that the "monster" which needs to be removed is one of their own.
written by Kirsten Beyer
directed by David Barrett
music by Jeff Russo

Cast: Sonequa Martin-Green (Commander Michael Burnham), Doug Jones (Lt. Commander Saru), Anthony Rapp (Lt. Paul Stamets), Mary Wiseman (Cadet Sylvia Tilly), Wilson Cruz (Dr. Hugh Culber), Anson Mount (Captain Christopher Pike), Michelle Yeoh (Philippa Georgiou), Jayne Brook (Admiral Cornwell), Alan Van Sprang (Leland), Rachael Ancheril (Commander Nhan), Bahia Watson (May Ahearn), Hannah Chessman (Lt. Commander Airiam), Emily Coutts (Lt. Keyla Detmer), Patrick Kwok-Choon (Lt. Gen Rhys), Oyin Oladejo (Lt. Joann Owosekun), Ronnie Rowe Jr. (Lt. R.A. Bryce), Julianne Grossman (Discovery Computer)

Notes: The wearable communicator badge common throughout Star Trek: The Next Generation, Deep Space Nine, and Voyager apparently has its roots in Section 31 technology, though it's clearly a shock to Captain Pike in the 23rd century. Given that Pike is in the dark about Georgiou's origins in the mirror universe, it's also likely that – despite whatever briefing he received (Brother) – he doesn't know the full story about Captain Lorca.
LogBook entry by Earl Green