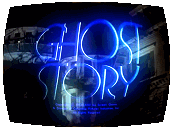 After a brief stay at a posh hotel owned by the debonair Winston Essex, the Travises arrive at their new home on Pleasant Hill. Expecting their first child within a month, Eileen Travis is already a bundle of nerves, but nearly every night she thinks she hears something in the house late at night, and she dispatches John to check the house every time. Eileen hears, from various neighbors, that Pleasant Hill was once the site of a cemetery, or an 18th century gallows where a 19-year-old girl was hanged for stealing a loaf of bread. Many of Eileen's frights involve a woman's cackling laugh, and she begins to think that the hanged girl is haunting her home. But when her daughter is born, the strange nighttime noises seem to stop for a while…until the hanged girl's ghost returns, with her eyes on the baby.
written by Richard Matheson
directed by John Llewellyn Moxey
music by Billy Goldenberg

Cast: Sebastian Cabot (Winston Essex), Barbara Parkins (Eileen Travis), David Birney (John Travis), Jeanette Nolan (Mrs. Ramsey), Sam Jaffe (De Witt), Allyn Ann McLerie (Miss Tate), Caitlin Wyles (Thomasina Barrows), Ivor Francis (Priest), John Garwood (Sgt. Booth)

Notes: The executive producer of Ghost Story was schlock horror auteur William Castle, in the wake of his most high-profile credit as producer of the Roman Polanski-directed Rosemary's Baby in 1968. Richard Matheson was already renowned for published works such as "I Am Legend" (which had, at this point, already been adapted for the big screen as The Omega Man) and numerous episodes of The Twilight Zone.
LogBook entry by Earl Green