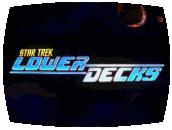 Stardate 57436.2: Ensign D'Vana Tendi, an Orion, is welcomed aboard the Starfleet ship U.S.S. Cerritos just before it goes to conduct second contact, formalizing Federation relations with the Galardonians, an agrarian species first contacted a year ago. Tendi meets fellow Ensigns Boimler, Mariner, and Rutherford, though Mariner at some point had made it to lieutenant before being busted down again. The eager-to-please Boimler is nervous when Captain Freeman herself summons him to her ready room…to ask him to report on any unauthorized activities engaged in by Mariner. When Commander Ransom and his away team return from meeting the Galardonians, Ransom has unwittingly brought a virus back with him, and he is the first to devolve into a zombie-like berzerker, spreading the infection by biting fellow crew members. The ensuing mayhem threatens to derail Rutherford's date with Ensign Barnes, but doesn't affect Mariner and Boimler at all since they're also on away duty. Boimler misinterprets Mariner's interactions with the Galardonians, leading to a diplomatic faux pas that makes things much worse for the away team…who still have no idea what to expect when they return to the Cerritos.
written by Mike McMahan
directed by Barry J. Kelly
music by Chris Westlake

Cast: Tawny Newsome (Ensign Beckett Mariner), Jack Quaid (Ensign Brad Boimler), Noel Wells (Ensign D'Vana Tendi), Eugene Cordero (Ensign Rutherford), Dawnn Lewis (Captain Freeman), Jerry O'Connell (Commander Ransom), Fred Tatasciore (Lt. Shaxs), Gillian Vigman (Dr. T'Ana), Jessica McKenna (Ensign Barnes), Phil LaMarr (Admiral), Ben Rodgers (Lt. Commander Stevens), Paul Scheer (Lt. Commander Billups)

Notes: The first studio-produced animated Star Trek series since the animated extension of the original series left NBC's airwaves in 1974, Lower Decks is the creation of writer Mike McMahan. While working as a production assistant and writers' assistant on such animated shows as South Park, Out There, and Rick & Morty, McMahan started an irreverent Twitter account positing unlikely storylines for an "unmade eighth season" of Star Trek: The Next Generation. Material from that account was published in an officially licensed Star Trek book, Warped: An Engaging Guide to the Never-Aired 8th Season in 2015, by which point he had been promoted to writer and story editor on Rick & Morty. Another animated series created by McMahan, Solar Opposites, featured a strong sci-fi element and premiered on Hulu just a few months before Star Trek: Lower Decks; he also wrote a live-action Short Treks short centered around Harry Mudd, The Escape Artist. (Two other Short Treks, The Girl Who Made The Stars and Ephraim And DOT, reintroduced Star Trek viewers to the animated side of the franchise as one-offs.)

Familiar Star Trek species spotted in this episode alone include a Benzite ensign boarding the Cerritos with Tendi, a Bajoran (Shaxs), a Caitian (Dr. T'Ana, a species not seen since Star Trek IV), and Rutherford's date, Ensign Barnes, is a Trill. As the crew is recovering from the "rage virus", an Andorian and a Vulcan are seen, the latter of whom may want to look in a mirror (mirror) before returning to duty. Rutherford himself has recently received a cybernetic enhancement, which hopefully has a better firewall than Lt. Airiam's, and at least one crewmember on the Cerritos wears a VISOR similar to that worn by Geordi LaForge. Even Boimler knows who Spock is, but he'll have to look Gary Mitchell (Where No Man Has Gone Before, 1966) up in the database. The Genesis Project was an unmentionable-in-public secret in the 23rd century, but is apparently public knowledge in the 24th. The Cerritos' shuttles are named after American national parks: Redwood, Yosemite and Joshua Tree. Lower Decks takes place roughly a year after the events of Star Trek: Nemesis (2002).
LogBook entry by Earl Green