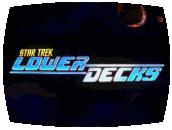 Stardate not given: Ensign Boimler is terribly impressed (with himself) when he's assigned to escort a Klingon named K'orin to a starbase via shuttlecraft. Ensign Mariner manages to get herself assigned to this mission as well, and to Boimler's horror, Mariner and K'orin are not just old friends, but drinking buddies. When the shuttle lands, K'orin goes missing, going off to sample the local cuisine (and booze), and Boimler and Mariner must find him and deliver him to his intended destination before his absence becomes an interplanetary incident. Meanwhile, Rutherford explores his career options aboard the Cerritos, only to discover that engineering may be where he fits in best.
written by Chris Kula
directed by Kim Arndt
music by Chris Westlake

Cast: Tawny Newsome (Ensign Beckett Mariner), Jack Quaid (Ensign Brad Boimler), Noel Wells (Ensign D'Vana Tendi), Eugene Cordero (Ensign Rutherford), Dawnn Lewis (Captain Freeman), Jerry O'Connell (Commander Ransom), Fred Tatasciore (Lt. Shaxs), Gillian Vigman (Dr. T'Ana), Jess Harnell (General K'Orin) Tom Kenny (Quimp), Kari Wahlgren (Anabaj), Jessica McKenna (Ensign Barnes), Ryan Ridley (Bajoran), Paul Scheer (Lt. Commander Billups)

Notes: The shapeshifting Vendorian species first appeared in The Survivor, an episode of the early '70s animated Star Trek, and marks the first appearance of a Vendorian since then.
LogBook entry by Earl Green