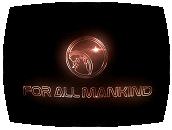 1974: Ed Baldwin's son, Shane, has been left brain-dead after being hit by a car while trying to ride his bicycle to a school basketball game. Ed's wife, Karen, makes the decision to take the burden of decision-making about Shane onto herself and also insists that Ed – now the lone American on the moon – not be told about his son's condition. Ed does have a full plate on the lunar surface, gathering increasing evidence that the Soviet crew of the Zvezda lunar station is encroaching on the vicinity of the Jamestown station, of which Ed is now the sole occupant. As the preparation for Apollo 24 continues to run into delays, Karen Baldwin must begin facing the possibility that her son will never recover…and that she will have to tell Ed that not only is all not wall at home, but that things are in fact catastrophically bad.
written by Nichole Beattie
directed by Meera Menon
music by Jeff Russo

Cast: Joel Kinnaman (Edward Baldwin), Michael Dorman (Gordo Stevens), Sarah Jones (Tracy Stevens), Shantel VanSanten (Karen Baldwin), Jodi Balfour (Ellen Waverly), Wrenn Schmidt (Margo Madison), Chris Bauer (Deke Slayton), Wallace Langham (Harold Weisner), Arturo Del Puerto (Octavio Rosales), Olivia Trujillo (Aleida Rosales), Krys Marshall (Danielle Poole), Rebecca Wisocky (Marge Slayton), Leonora Pitts (Irene Hendricks), Chris Agos (Buzz Aldrin), Stephen Oyoung (Harrison Liu), Noah Harpster (Bill Strausser), John Rubenstein (Doctor Marsten), Spencer Garrett (Roger Scott), Megan Dodds (Andrea Walters), David Gautreaux (Barry Newsome), Scott Alan Smith (Dr. David Josephson), Tait Blum (Shane Baldwin), Germain Arroyo (Anthony), Tracy Mulholland (Gloria Sedgewick), Dan Warner (General Arthur Weber), Brian D. Johnson (Grush), Jeff Denton (Pendle), Krystal Torres (Cata), Kevin Glikmann (Jerry Biddle), Jan Munroe (Dr. Weddle)

Notes: Deke Slayton requalifying himself for flight status isn't science fiction; he did, in fact, do this, but in preparation for the 1975 Apollo-Soyuz Test Project flight, a joint rendezvous and docking mission with a Soviet Soyuz vehicle. As is also the case in For All Mankind's fictional narrative, his requalification came after long-standing concerns about Slayton's cardiovascular health (which had left him grounded since the Mercury program) were re-evaluated by NASA flight surgeons.
LogBook entry by Earl Green