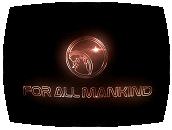 1974: The weeks have turned into months since the Apollo 23 accident, and the crew of NASA's Jamestown lunar habitat has yet to be relieved. Continued delays and incidents on the ground have kept the three astronauts on the moon for much of 1974 with no relief in sight, while the Soviets' Zvezda base, mere miles away, continues to function normally. Ed Baldwin, the mission commander, is growing paranoid about what the Soviet crew might be doing, while Gordo Stevens is gradually becoming more unhinged as his frequent video calls with Tracy on Earth make it seem like a divorce is inevitable, and he begins taking unscheduled, unauthorized walks on the lunar surface. Danielle Poole, the first African-American woman on the moon, is stuck between the two extremes, trying to make sense of both of their behavior. On Earth, the growing FBI scrutiny of everyone at NASA is poised to claim not one victim, but two, unless Larry Wilson and astronaut Ellen Waverly take very public steps to debunk the FBI's claims about them – though those steps will have an immense personal cost for Ellen. When Baldwin finds evidence that the Zvezda cosmonauts have indeed been "visiting" the vicinity of Jamestown, his paranoia seems justified.
written by Ronald D. Moore
directed by Meera Menon
music by Jeff Russo

Cast: Joel Kinnaman (Edward Baldwin), Michael Dorman (Gordo Stevens), Sarah Jones (Tracy Stevens), Shantel VanSanten (Karen Baldwin), Jodi Balfour (Ellen Waverly), Wrenn Schmidt (Margo Madison), Wallace Langham (Harold Weisner), Krys Marshall (Danielle Poole), Meghan Leathers (Pam Horton), Nate Corddry (Larry Wilson), Edwin Hodge (Charlie Duke), Chris Agos (Buzz Aldrin), James Urbaniak (Agent Gavin Donahue), Andrea Walters (Megan Dodds), Tait Blum (Shane Baldwin), Michael James Bell (Principal Mike Russell), Dan Warner (General Arthur Weber), Benton Jennings (Judge), Matthew Downs (Police Officer)

Notes: Writer and series co-creator Ronald D. Moore, who got his start writing for television after submitting a spec script to Star Trek: The Next Generation in 1989, peppers this episode with 1960s Star Trek references aplenty, including Poole's TV trivia knowledge that actor John Fiedler had played Mr. Hengist in an episode of Star Trek (1967's A Wolf In The Fold, to be precise), and Baldwin and Stevens remarking that nearly everywhere they go on the moon is "where no man has gone before". Baldwin's delivery of Poole and Stevens to a waiting (unoccupied) service module in lunar orbit via a LEM would imply that, in For All Mankind's alternate timeline, LEMs are reusable, and the problem of relighting long-dormant, cold rocket engines – a problem that has plagued spacecraft engineers in real life through the present day – has been solved.
LogBook entry by Earl Green