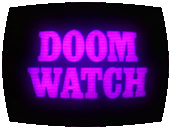 An airliner bound for San Pedro experiences serious problems during descent: something is eating away at controls, insulation on wiring, anything made of plastic. The pilot issues a mayday, but nothing can be done to save the plane or anyone on it.
Tobias Wren arrives to interview for a job at the recently formed Department of Scientific Work (informally called Doom Watch by those who work there), only to be given an immediate assignment by the Department's director, Dr. Simon Quist: investigate the San Pedro plane crash. When Quist phones his government contacts to enquire about any experimental means of disposing of plastic, he's given the cold shoulder, and sends Dr. John Ridge to dig deeper. Ridge finds reports pointing to a biological agent – "Variant 14" – that dissolves plastics. Ridge's "research" draws the fury of a government minister, who intends to suspend both Quist and Doomwatch. In the meantime, Wren has obtained pieces of the wreckage and is flying back to London with them, completely unaware that the wreckage could introduce the hungry plastic-eating bacteriological agent to a new plane full of plastic…
written by Kit Pedler and Gerry Davis
directed by Paul Ciappessoni
music by Max Harris

Cast: John Paul (Dr. Spencer Quist), Simon Oates (Dr. John Ridge), Robert Powell (Tobias Wren), Joby Blanshard (colin Bradley), Wendy Hall (Pat Hunnisett), John Barron (The Minister), Jennifer Wilson (Miss Wills), Kevin Stoney (Hal Symonds), Michael Hawkins (Jim Bennett), Tony Sibbald (First Airline Crew), Monty Brown (First Airline Crew), Gracie Luck (First Airline Crew), Richardson Morgan (First Airline Crew), John Lee (Second Airline Crew), Eric Corrie (Second Airline Crew), Pat Wallen (Second Airline Crew), Caroline Rogers (Second Airline Crew), Edward Dentith (Second Airline Crew), Christopher Hodge (Commissionaire), Andreas Malandrinos (Airline Passenger), Mike Lewin (Airline Passenger), Pat Beckett (Airline Passenger), Toba Laurence (Airline Passenger), Cynthia Bizeray (Airline Passenger), Peter Thompson (Airline Passenger), Michael Earl (Airline Passenger), Tony Haydon (Airline Passenger)

Notes: Kit Pedler and Gerry Davis are well known to fans of UK sci-fi fandom as the creators of the Cybermen, one of Doctor Who's most persistent enemies. Much as the Cybermen were the result of former Doctor Who script editor Davis and Dr. Pedler brainstorming about organ replacement gone berzerk, Doomwatch is the result of them continuing their brainstorming sessions about scenarios resulting from human technology and science growing faster than human wisdom. Of the 38 episodes of Doomwatch produced over three seasons (only 37 of which were shown, one being deemed too violent for the BBC), only 24 episodes are still known to exist, and those 24 have been released on DVD.
LogBook entry by Earl Green