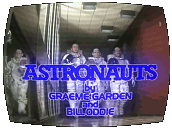 The astronauts try to get accustomed to their new home, the Orbital Workshop space station, which doesn't quite have all the amenities of home. For one thing, there's a video camera in the "waste management compartment", and there's also the logistics of where to walk Bimbo the dog in space. Mattocks and Ackroyd try to come to terms with being bunkmates, whether it's Ackroyd's habit of listening to music at bedtime, or the fact that Mattocks expects to hear chickens…in orbit.
written by Graeme Garden and Bill Oddie
directed by Dick Clement

Cast: Christopher Godwin (Mattocks), Carmen Du Sautoy (Foster), Barrie Rutter (Ackroyd), Bruce Boa (Beadle), and Bimbo (himself)

Notes: The description of the space station going through an entire day in 90 minutes is actually scientifically accurate. The International Space Station, for example, experiences a "sunrise" approximately every 90 minutes in low Earth orbit.
LogBook entry by Earl Green