When we toured the house in Utah that we've wound up renting, the first glimpse of the basement – an area as big as the living room upstairs, but in a decidedly unfinished state without even so much as drywall in most places – there was talk of contractors coming and going for the first several weeks that we were there until the room was done.
Having come from a house that had, for several years, had bare concrete floors, I took one look and said we'd take it as-is. I saw exposed beams and rafters from which lights could be hung, places where a camera or two could be mounted, unfinished walls where I could put acoustic foam to make the space a better recording studio, and the floor was nothing new to me. I saw the studio that this space could be.
It was an unexpected bonus that my offer to accept the house as-is got us a $100 reduction on the monthly rent. Even better.
I've been both planning and dreading moving into the video podcasting space for quite some time – since well before moving from Arkansas to Utah.
Part of this is simple – it's kind of silly to restrict a podcast about video games to audio only. Listeners should at least have the option to watch the game being played. And with my background in video production…well, it just seems awfully silly not to use that skill set.
What's the part I'm dreading? Being on camera. Historically speaking, it really hasn't been my best destiny as far as working in TV. Or maybe that's just because I used to fancy wearing bright yellow pants.
But Explorer Earl would appear a few times a week and then be gone until another potential pet showed up. Explorer Earl got recognized at the grocery store on a few occasions, but Explorer Earl never had to deal with YouTube commenters. I know that commenting can be switched off by someone posting a video, but that almost defeats the point of putting oneself out there. But then so do endless comments about one's weight and appearance, or the fact that, with the unfinished walls visible in the background, it might look like I'm squatting in an abandoned building somewhere. I'm caught, as always, between having a creation that I want to put out there, and not wanting to expose myself to the internet's cottage industry of tearing things apart with maximum snark just to prove one's "edginess". Literally everything I do on this site, and on the 'net in general, is the opposite of that vibe. I can find the charm in the cheesiest '70s sci-fi, and I like spreading that joy rather than darkening anyone's door with another bucket of snark.
To some extent, I realize that, on some subconscious level, my (perhaps too frequent) appearances on Mission Log Live have been a bit of a trial balloon to get over these anxieties. If nothing else, when the hosts mention your room when you show up on screen, you know you're at least getting the background set and lighting right.
Then again, one of the reasons I'm a rabid Mission Log fan (and apparently a frequent flyer guest) is that, with very few exceptions, it's a show with one of the smartest, most thoughtful, most respectful followings you could imagine. I couldn't use up all the fingers on one hand counting up the number of incidents of folks who were actually rude in the comments section of Mission Log.
So…about that background set. I had, for a very long time, been wanting to recreate the feel of walking into a store, as a kid, and seeing a smorgasbord of things you couldn't afford to pick up all at once. Just as a piece of decor, a geeky conversation piece. A friend who had once run a yarn & fiber store in Fort Smith gave me three 2×6 gridwall panels and the hooks to go with them, and I played with those briefly at my old house before setting them aside to pack the place out. If you price these brand new, they're not cheap – and there was a period of uncertainty about whether or not they'd be coming along in the moving truck because there was so much stuff being packed in there. But come to Utah they did.
Since then, I've been hovering around Craigslist and Facebook Marketplace to watch for locals getting rid of retail fixtures like this. I scored three more panels (though only 5 feet tall) for $30 total. The result is… that cold unfinished basement is rapidly turning into a working set perfect for talking about old video games and old TV shows.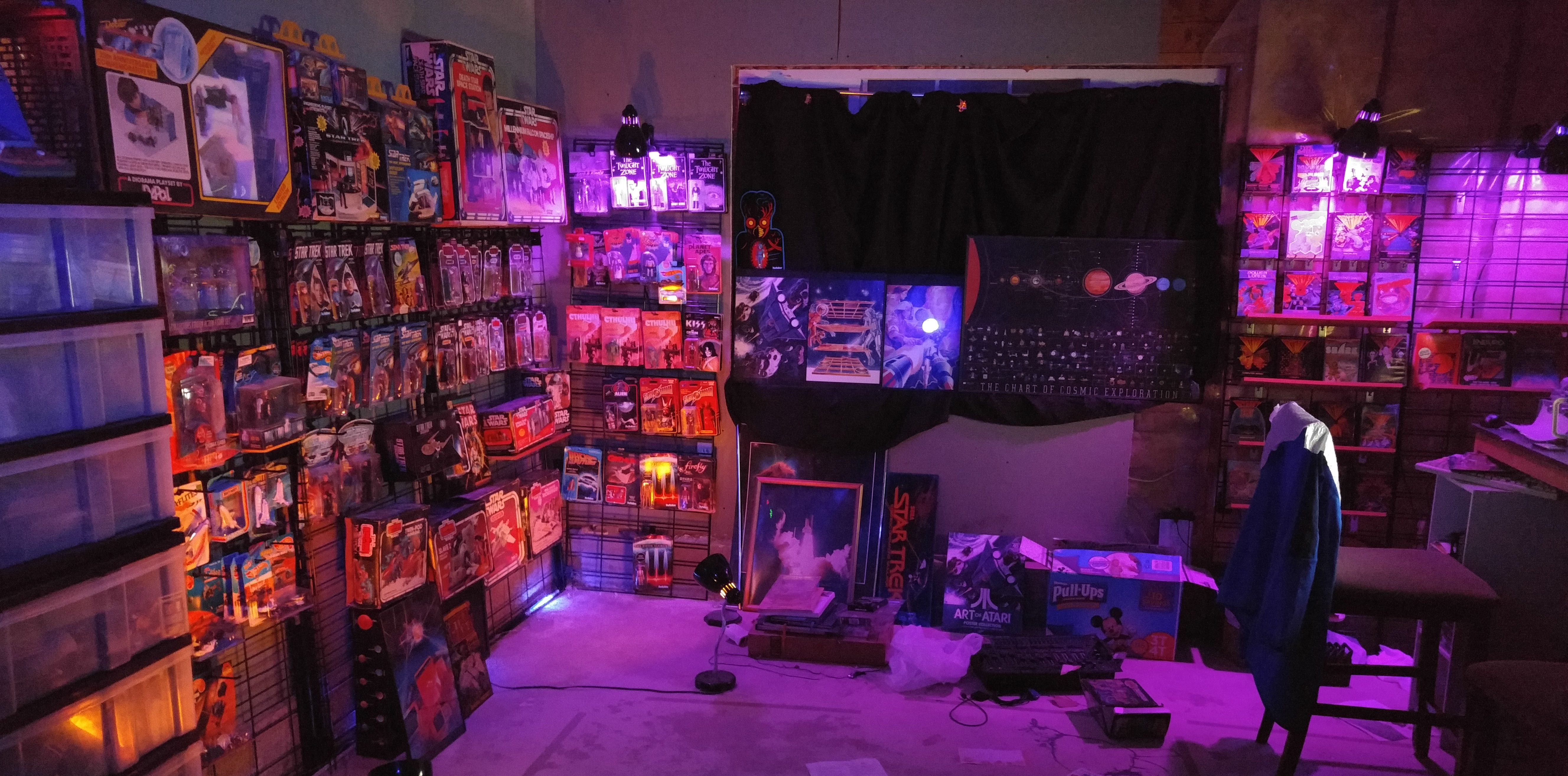 I'd like to think that the retail gridwalls propped up everywhere and loaded with goodies which were already in my collection successfully disguise the lack of even so much as drywall down here.
Truth be told…I've had to order more hooks. I ran out and had to resort to things like using spare shelves from a CD storage shelf I sold months ago.
The "video game wall" is an interesting bit of artifice. The Odyssey2 and Videopac boxes absolutely contain what they say they do. The Atari boxes, aside from a handful of still-factory-sealed specimens (usually of extremely common titles)…are empty. I picked up two batches of "empties", some of which had been squished flat or were in terrible shape. Thus was born the art of styro-stuffing – putting slabs of styrofoam inside each box, filling it out to its original dimensions, and then sealing the box back up. Usually this just entails a piece of foam roughly the size of the Atari cartridge that's no longer there, but one Activision box in particular was in such poor shape when it reached me that I had to cut-and-paste it back together – quite literally – around a slab of styrofoam cut to match the entire interior shape and size of the box.
If I've done it right, of course, you'll never be able to tell which one it is. The vintage late '79 Star Trek: The Motion Picture Happy Meals are also styro-stuffed to maintain their shape.
Most of the pegs and makeshift shelves have multiple items hanging on them, the idea being that everything gets swapped around between shows. Anyone who's gazing too hard at the stuff in the background will be kept on their toes.
One of my favorite portions of this display is the vintage space shuttle and space exploration toys. Any kid who grew up in the 1970s could walk into any store and find a potential fleet of shuttles on the pegs in the toy aisles, back in those days when the shuttle was The Way to The Future. I plan on growing this segment as budget allows.
All of the gooseneck lights are equipped with LED bulbs that can be set to any color by remote control, or can cycle through different colors if I'm feeling especially trippy. I've noticed that the color-cycling feature messes with autofocus on modern cameras for some reason, though.
And when you zoom out…it's a messy, unfinished room without proper walls or ceilings. It's cold because the floor is the concrete foundation (that much I'm used to from my old place). Boxes are still being unpacked. I need more shelving because there isn't a place for everything to go (I only just recently got a proper bookshelf, and discovered that I'll need a twin
sister for it because there are still books with no place to go). The floor was apparently painted on by the previous renters. The "curtain" (actually a tablecloth from my old house) is…haphazard at best. It's a set on a very, very low budget. It needs work. (Maybe not as much as the very first iteration of this idea, dating back to 2006, but still…)
Stuff like what to wear has been surprisingly simple to figure out – largely because I was already wearing it. A good longcoat helps disguise whether or not one has a generally gourd-like physique anyway. Does the face match the voice? I'll leave that to you (and, shudderingly, to the Youtube commenters) to decide.
Retrogram launches in January as a podcast with a video version from the start (hopefully). Select Game will relaunch as a podcast with a video version in February. Don't Give This Tape To Earl might occasionally have a video episode if warranted – no more than once or twice a year, probably. The concepts for the shows are either road-tested or ready to roll.
Are the host and his set ready? As long as you don't look too close, maybe we are. I would say "see you next year", but the horrifying truth is, you may be seeing me next year.
In the meantime…set or no…this basement is starting to feel just a little bit like home. Or my happy place. Which may or may not be the same thing.
Anyone wishing to help out on things still needed for this place to be a set/studio, there's an Amazon wish list for that, as well as an Amazon wish list for more obvious set dressing that'll warm the pegs on those gridwalls back there. Much like Patreon supporters, anyone contributing to either will get name-checked in the end credits.