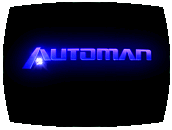 Walter is riding along for a police operation targeting a powerful mob boss, but Captain Boyd leaves Walter at the side of the road (for his own safety) to continue the pursuit. Walter calls on Automan to help pursue the mob, but the trail leads somewhat paradoxically to the home of a powerful judge who has made a career out of putting the mob behind bars. Walter's trail of evidence dead-ends because Automan naturally has to return to the digital world to recharge, leaving his human partner high and dry. New evidence arrives, leading Automan to Las Vegas…and possibly implicating the judge after all. Now Walter has to go to Vegas himself, and has to convince Lt. Curtis and Roxanne that he isn't crazy for following this latest lead. And while he's searching for clues among the Vegas nightlife, Automan takes on a smooth-dancing persona who proves popular with the ladies.
written by Glen A. Larson
directed by Winrich Kolbe
music by Stu Phillips / Automan Theme by Billy Hinsche and Stu Phillips

Cast: Desi Arnaz Jr. (Walter Nebicher), Chuck Wagner (Automan), Heather McNair (Roxanne Caldwell), Gerald S. O'Loughlin (Capt. Boyd), Robert Lansing (Lt. Jack Curtis), Mary Crosby (Ellen Fowler), Don Gordon (Leonard Martin), Angela Aames (Bartender), Robert F. Lyons (Jason), William Windom (Judge Farnsworth), Jack Perkins (The Drunk), Jorge Cervera Jr. (Jackson), Jim Storm (The Driver), Bud Davis (Sieger), Gary Epper (Brandt)

Notes: Jack Sowards (1929-2007), co-writer of Star Trek II: The Wrath Of Khan and former writer for Bonanza and The Streets Of San Francisco, joins Automan as its executive story consultant, a function he also served on both of those shows as well as Falcon Crest. When Automan wants Walter to tell him what his astrological "sign" is, Walter replies "Tell them you're an Apple II!" Songs heard in the background of the episode include Michael Sembello's "Maniac", Michael Jackson's "Beat It", and the Bee Gees' "Stayin' Alive".
LogBook entry by Earl Green