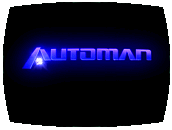 Police officer Walter Nebicher is a danger to himself and others on the beat, so the chief of police puts him in the job best suited to him: running the department's computers. Walter, still determined to fight crime in his own way, creates an artificial intelligence that manifests itself as a solid hologram – Automan, "the world's first fully automatic man." As long as he has sufficient power to draw upon, Automan can fight crime, starting with the mysterious disappearance of Lt. Jack Curtis, Walter's friend and fellow officer who was following on a lead regarding shady activity at a private security company. Walter's computer also points to the same company and its executives as a potential suspect, and he and Automan (and Automan's tiny assistant Cursor, which can create vehicles for Automan on demand) set out to solve the mystery…but Automan must disappear to recharge when his power runs low, leaving Walter to improvised his way through tricky situations.
written by Glen A. Larson
directed by Lee H. Katzin
music by Stu Phillips / Automan Theme by Billy Hinsche and Stu Phillips

Cast: Desi Arnaz Jr. (Walter Nebicher), Chuck Wagner (Automan), Heather McNair (Roxanne Caldwell), Gerald S. O'Loughlin (Capt. Boyd), Robert Lansing (Lt. Jack Curtis), Patrick Macnee (Lydell Hamilton), Steven Keats (Collins), Robert J. Hogan (Peterson), James Antonio Jr. (Cramer), Robert Dunlap (Chuck Wilson), Don Galloway (Martin Wills), Doug McClure (Det. Ted Smithers), Camilla Sparv (Tanya), Sid Haig (1st Gang Member), Mickey Jones (2nd Gang Member), Gloria LeRoy (Landlady), Herman Poppe (Swiss Guard), Carol Vogel (Joanne Wills), Dennis Fimple (The Taxi Driver), Kristina Hayden (Stewardess), Ed Hooks (Parking Attendant), Angela Lee (Wills Girl #1), Tricia Tomicic (Wills Girl #2)

Notes: Created by Glen A. Larson and obviously inspired by Disney's heavily-promoted 1982 movie Tron, Automan takes the concept of a man from inside the computer world…and drops it into a buddy cop show. Without the budget for the manually-animated intricate body armor of Tron, Automan instead used a technique called front-axial projection, illuminating Chuck Wagner's special reflective costume (and similarly reflective detailing tape on Automan's various vehicles) with a powerful but narrowly focused light mounted to the camera itself. If Glen Larson had any visions of an Automan empire, they were quickly dashed – the show lasted less than one full season on ABC.

Guest star Patrick Macnee (1922-2015) was a frequent flier guest star on American TV, having established himself as the debonair star of the long-running, light-hearted British spy show The Avengers, which originally started out darker and featured Macnee's character of Mr. Steed as its second banana. Sid Haig is also a mainstay of American genre TV, known best to science fiction fans as Dragos, self-styled Master of the Cosmos, the chief bad guy in the 1970s Filmation live-action series Jason Of Star Command. Automan mentions that Walter has programmed him to take sharp 90-degree turns – inspired by Tron's light cycles, but here chalked up to the 90-degree turns taken by video game characters such as Pac-Man and Donkey Kong.
LogBook entry by Earl Green