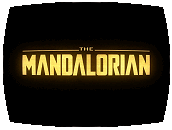 As instructed by Ahsoka, the Mandalorian takes Grogu to the seeing stone remaining in the ruins of a Jedi temple, where his connection to the Force may attract other Jedi who can train him. As Grogu communes with the Force, however, a ship lands nearby. The Mandalorian investigates, meeting a man claiming to be Boba Fett, and demanding the armor recovered by the Mandalorian on Tatooine, which he says belonged to him and his father before him. Fett has also enlisted the help of bounty hunter Fennec Shand, whose life he saved on Tatooine, and pledges both of their help in protecting Grogu in exchange for the armor. But the arrival of squadrons of Imperial stormtroopers prevents any further negotiations. Fett and Shand make good on their promise to protect Grogu, but Moff Gideon, commanding an Imperial cruiser overhead, sends Darktroopers to retrieve Grogu, and destroys the Razor Crest with a single well-placed shot to prevent the Mandalorian from following him. Since Grogu is still not safe, Fett and Shand still plan to honor their pledge to help the Mandalorian retrieve him.
written by Jon Favreau
directed by Robert Rodriguez
music by Ludwig Goransson

Cast: Pedro Pascal (The Mandalorian), Temuera Morrison (Boba Fett), Ming-Na Wen (Fennec Shand), Giancarlo Esposito (Moff Gideon), Gina Carano (Cara Dune), Gabriel Ebert (Gunnery Officer), Katy O'Brian (Comms Officer)

Notes: Boba Fett offers no explanation as to how he survived the Sarlacc on the planet Tatooine (Return Of The Jedi, 1983), so fans attached to the explanations in prior novels and comics can rest easy because nothing here explicitly contradicts those tellings of events. Another piece of legacy Star Wars media that remains intact is the LucasArts video game Star Wars: Dark Forces, which originated the Darktroopers in 1995 and inspired a series of audio dramas a few years later. Fennec Shand first appeared in season one's The Gunslinger.
LogBook entry by Earl Green