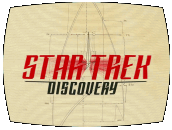 Stardate 2136.8: Burnham is relieved when duty calls her away from an increasingly awkward party to investigate something a bit more worthy of her attention, a spacefaring creature in ill health. Since it is an endangered species, the Discovery crew is bound by law to beam it aboard and transport it to a safe facility, but once it's aboard, it disgorges something that would make any creature ill: Harcourt Fenton Mudd. Enraged that Captain Lorca left him stranded in a Klingon prison, Mudd is back for revenge, and has an illegal (and unstable) device to create a time loop. He can kill Lorca as many times as he likes, and is willing to do the same to the rest of the crew, until he extracts the secret of Discovery's drive system to sell to the Klingons.
written by Aron Eli Coleite & Jesse Alexander
directed by David M. Barrett
music by Jeff Russo

Cast: Cast: Sonequa Martin-Green (Commander Michael Burnham), Doug Jones (Lt. Commander Saru), Shazad Latif (Lt. Ash Tyler), Anthony Rapp (Lt. Paul Stamets), Mary Wiseman (Cadet Sylvia Tilly), Jason Isaacs (Captain Gabriel Lorca), Wilson Cruz (Dr. Hugh Culber), Katherine Barrell (Stella), Peter MacNeill (Baron Grimes), Rainn Wilson (Harry Mudd), Milton Barnes (Deck Crew #1), Emily Coutts (Keyla Detmer), Jason Deline (Medical Officer), Hamza Fouad (Deck Crew #2), Julianne Grossman (Disocvery Computer), Patrick Kwok-Choon (Rhys), Sara Mitich (Airiam), Oyin Oladejo (Joann Owosekun), Ronnie Rowe Jr. (Comm Officer 2), Izaak Smith (Jogger #1)

Notes: Betazed (future home of Counselor Deanna Troi) is already known to, or may already be a member of, the Federation in the 23rd century, as Mudd has been involved in criminal activity in Betazoid territory. Actor Peter MacNeill, though he appears only very briefly here, was a regular in Captain Power And The Soldiers Of The Future (as "Hawk") and on the '90s series Psi Factor: Chronicles Of The Paranormal. He also voiced numerous characters in the 1980s animated series Star Wars: Droids, and guest starred in two episodes of Gene Roddenberry's Earth: Final Conflict.
LogBook entry by Earl Green