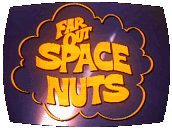 Captain Torque's attempts to find an intergalactic treasure map have proven far too dangerous for his inept henchmen. He decides to enlist the help of the next two fools he happens across, and naturally Barney and Junior are the easiest choices. To ensure their cooperation, captain Torque holds their spaceship hostage…with no guarantee that he'll give it back even if they do accomplish the mission he has given them.
written by Earle Doud & Chuck McCann
directed by Walter G. Miller
music by Michael Lloyd / arranged by Reg Powell

Cast: Bob Denver (Junior), Chuck McCann (Barney), Patty Maloney (Honk), Rudy Diaz (Captain Torque), Gus Peters (Henchman), Hal Smith (Intergalactic Patrol)

Notes: Many online resources place a comma in this episode's title; the on-air title as broadcast contains no punctuation. Junior accidentally calls Captain Torque "Captain Turk" numerous times.
LogBook entry by Earl Green