Six hours, hundred of games – now available digitally!
Based on theLogBook.com's award-winning online museum of classic arcade, computer and home video games, Phosphor Dot Fossils is a six-hour crash course in the history of electronic entertainment: a celebration of the evolution and innovation of arcade games, home video games and computer games.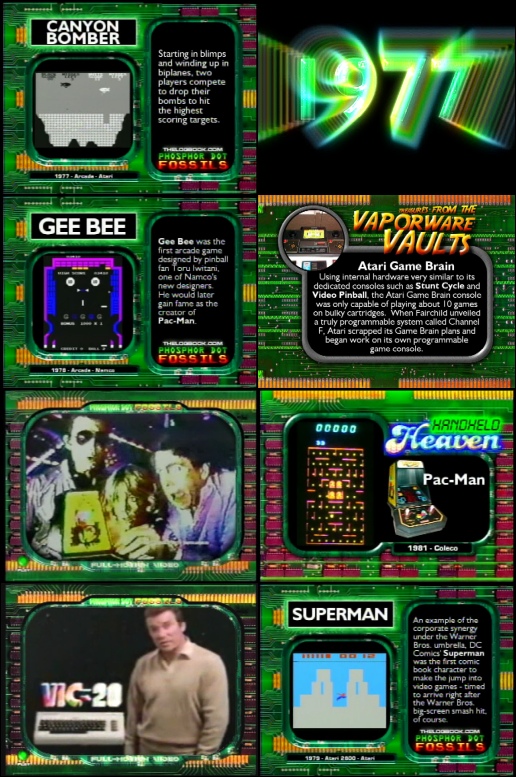 See The Games In Action
Actual video clips of dozens of games in action, from 1971's "Computer Space" through the dawn of the NES era, accompanied by fascinating game-by-game historical notes. It's a "video book" and a celebration of the sights and sounds of video gaming's history all in one.
Vintage Commercials
This will be the first time you've ever been happy to see advertisements. Though some of these have been seen as part of previous commercial compilations on VHS, hundreds of hours have been spent on restoring the sound and video to the best quality possible to these gems of pure '80s bliss, many of which haven't been seen in over 25 years.
Rare Hardware, Iconic Controllers
From the Magnavox Odyssey's light gun to the Atari 2600 joystick to Intellivision's keypads to the Famicom D-pad controllers, see how keeping your fingers on the pulse of the game has evolved. Also glimpse rare hardware such as Adventurevision, Puppy Pong and the pre-2600 Atari console that never hit the stores, along with long-lost specimens of video game toys and memorabilia.
This is a series of video files. Physical DVDs are no longer being created or stocked.