Friends, it was indeed 40 years ago today when Dan Aykroyd as well as the late and great John Belushi saw the film debut of their characters of Elwood and Jake Blues – in John Landis' The Blue Brothers. A musical comedy that may not have found it's audience when it initially opened a month and three days after Star Wars: The Empire Strikes Back – coming in second place on it's opening weekend with the sequel to Star Wars holding onto the top spot. But over the years thanks to not just the VHS and DVD rentals but the near-constant airings of The Blues Brothers on television – I think it is safe to say that the film has finally been embraced by pop culture aficionados by and large.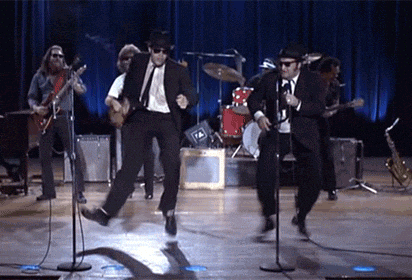 Granted the 1980 film wasn't the first time that Jake and Elwood Blues had been seen – that occurred two years earlier thanks to Saturday Night Live and opening for Steve Martin at the Los Angeles Universal Amphitheatre. In actuality the genesis of the characters began all the way back in 1973 – when Belushi stopped by the 505 club in Toronto, which was owned by Aykroyd. Flash forward a mere seven years later and not only had the duo managed to line up an extremely impressive roster of musicians, released a double platinum album with Briefcase Full of Blues but they had now produced a feature length musical comedy. One that sees Jake and Elwood racing against time to secure the necessary funds to save a Catholic orphanage, crossing paths with dreaded Illinois Nazis as well as a country and western band, and attempting to escape the long arm of the law – all the while performing alongside the likes of the legendary Aretha Franklin and Ray Charles. In addition to reminding people they encounter on their journey that they were "on a mission from God".
I was lucky enough to catch The Blues Brothers at the 62 Drive-In – that local outdoor theater of my youth that I have managed to talk a bit about on both the Saturday Frights as well as Pop Culture Retrorama podcast. I loved the film then and 40 years later I still find it has the ability to crack me up every time that I get a chance to sit down and watch it. In fact I think so highly of the movie that I chose it as the subject of the ninth episode of the Pop Culture Retrorama podcast. So if you will pardon the shameless plug – why not give it a listen – you might be surprised by the amount of hurdles that everyone involved in the film had to overcome for The Blues Brothers to reach the silver screen.
In closing out this nod to the 40th anniversary of The Blues Brothers – I would like to know when you first saw the film, why not share your memories of the movie in the comments?