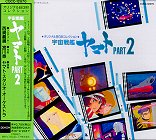 When Leiji Matsumoto's epic space opera Space Battleship Yamato (later imported to the U.S. as Star Blazers) proved to be a success in Japan, the show's landmark first season was rewritten and compressed into a movie with new (and, in many cases, improved) animation. The movie also went over well, so a second film was created, though it made the ill-advised move of killing off the entire crew of the Yamato in a fateful battle with the Comet Empire.
One little problem: that movie also went over well, creating even more of a demand. So the movie was rewritten and expanded into enough scripts to cover another season of the TV series, a season which left the crew alive at the end to continue their adventures on both the big and small screens.
This is the soundtrack to that movie, which was also used for the TV reworking of the story.
Now that the history lesson is out of the way, let's talk music. There is a vast difference between this soundtrack and the soundtrack of the first season's music in terms of both sound quality and, on a less technical level, the sophistication of the music itself.
Many of the same cues heard in season one were reused in season two, but the technical and musical improvements are perhaps most detectable in the recycled cues. "The Mystery Of Space" is a solemn variation on "The Universe Spreading To Infinity", one of my favorite pieces from the original season one soundtrack. In this case, it underscores the Yamato's crew gathering at a memorial for their fallen captain at Hero's Hill. And the effect, even without the visuals is spectacular.
In other tracks that revamp season one's signature themes, the overall effect is bigger and bolder – brassy cues blast even louder than they did originally, and the funky cues with rock instrumentation crank it up that much more in this recording. The larger orchestra used for these sessions almost has the same impact of the
excellent Symphonic Suite Yamato.
Knowing in advance that Space Battleship Yamato Part 2 featured much music that had already been used in the first soundtrack, I didn't expect to like it as much as I did. It's both an excellent collection of music and a pleasant surprise.
The Silence Of Space (1:04)
The Mystery Of Space (1:45)
Iscandar (1:43)
The Universe Spreading To Infinity (1:05)
Yamato's Theme (1:28)
Yamato Takes Flight! (1:30)
Courageous Yamato (1:12)
Yamato's Battle (1:07)
Wounded Yamato (0:59)
Rise Up, Yamato! (0:45)
Desler's Bolero (1:04)
Meditation (1:41)
Desler's Tactics (2:32)
Complications (1:47)
Imprisonment (0:44)
The Rival I (3:00)
Kodai And Dessler's Friendship (1:27)
The Rival II (1:22)
Reminiscence (2:10)
Menace In Space (1:49)
Appearance And Attack (0:47)
Comet Empire Fleet Sorties! (1:09)
Battle Theme (1:18)
Comet Empire Emperor Zordar (0:37)
Great Love (1:58)
Reunion (1:30)
Thoughts Toward The Stars (1:00)
Tears Of Love (0:47)
Melody Of Love (1:58)
Andromeda (1:30)
Yamato Opening Theme (1:29)
Yamato Reunion (2:03)
Teresa's Theme (1:15)
Mystery Of Planet Telezart (0:43)
Teresa's Love Theme (2:20)
Various Endings (3:40)
The Scarlet Scarf (1:54)

Released by: Nippon Columbia
Release date: 1995
Total running time: 56:38