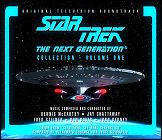 In 2010, when Film Score Monthly took a huge financial gamble on the release of a lavish 14-disc box set chronicling all of composer Ron Jones' contributions to Star Trek: The Next Generation, the label found itself having to fight not just protests about the price tag, but the commonly held misconception that TNG's music, from its first season to its last, was a wall of droning synth music. (In fact, the show frequently boasted one of the biggest music budgets in TV, with at least a partial orchestra booked for most episodes.)
Weighing in at three discs, La-La Land's Star Trek: The Next Generation Collection Volume 1 devotes one disc to a broad selection of music by Dennis McCarthy, another disc to Jay Chattway, and a third disc to composers whose stints on TNG proved to be one-offs. This is far from an indication that these musicians were never invited back, however – rather, they soon became far too busy on other projects. These one-off composers include John Debney (seaQuest DSV, Doctor Who, The Passion Of The Christ), Don Davis (the Matrix trilogy) and the late Fred Steiner (the only composer to score both original TV Star Trek and TNG).
This set puts the lie to the "wall of synths" accusation often unfairly leveled at the series' music by fans who either have a short memory or simply don't know any better, but one of the three discs proves the critics' point about droning.
Dennis McCarthy remains the alpha and omega of post-original-series Star Trek music: he scored the pilot episode of TNG in 1987 and the series finale of Star Trek: Enterprise in 2005. In between, he scored computer games, theme park rides and one movie based on the series. McCarthy's sound is expansive, with French horns frequently sounding almost heraldic chord changes and strings arranged to give the show a widescreen, cinematic sound. While Ron Jones' music may have been more "involved," it's hard to argue that McCarthy's often comes across as more sophisticated. This first disc is full of series highlights, among them my favorite early episode, Conspiracy, which seemed on the surface like it should have spun the entire rest of the show in a different direction. Other big, brassy, noteworthy McCarthy scores include Sarek, Time Squared and The Child. Some of the cues where McCarthy eschews his usual style are among the most effective in the entire three-disc set, with The Survivors and The Big Goodbye being particularly worth a listen.
With Jones vanishing halfway through the series – having irked executive producer Rick Berman one too many times – the fourth season saw the introduction of his replacement, Jay Chattaway, who had filled in for Jones on the episodes Tin Man (already released by GNP Crescendo) and Remember Me (included here). Though those two early entries were very strong, Chattaway settled into a groove – or, perhaps arguably, a rut – where he frequently reused chord progressions. Some of Chattaway's work used interesting, almost eastern chords, while other pieces went heavy on dissonance.
The problem with Chattaway's disc is also the problem with his scoring of the series: the reuse of material is very noticeable. Episodes like Starship Mine, Journey's End and I, Borg, which feature scenes that should crank up the action or the menace, are lulled into a somnolent daze where the music says "nothing is happening here." Chattaway is at his best with more contemplative, exotic episodes as Darmok and The Inner Light. Also featured on the Chattaway disc, mainly because the fans would form a lynching party if it wasn't included, is the "Scotty on the holodeck bridge" music from Relics.
The third disc is the most eye-opening surprise. Original series composer Fred Steiner wakes up everyone who fell asleep during the second disc with Code Of Honor, a busy, boisterous score that would've been right at home on Kirk's Enterprise, and sadly represents Steiner's only voyage aboard Picard's Enterprise. Had Steiner stayed on, creating a McCarthy-Jones-Steiner rotation, the show would've benefitted greatly – and Steiner likely would've been spaced long before Jones. Code Of Honor boasts some great music (pity about the script it accompanied, though).
Fred Steiner sadly died just before this set was released.
Don Davis' Face Of The Enemy isn't quite as stunning, but compared to the state of TNG's music circa season 6 (the almost complete lack of music from that season from either McCarthy or Chattaway is both conspicuous and telling), it stands out almost as much as Code Of Honor did in season one, with bold flourishes and a big sound. Less surprising is John Debney's The Pegasus, which almost sounds like a McCarthy score. Debney's score is at its best when illustrating the episode's dark moral dilemma for Commander Riker.
Rounding things off are various arrangements of the opening titles, end credits, and even the post-fade-out "bumpers" that were seen and heard at the end of each act before the commercial break (now forever consigned to the aging memories of those of us who saw the show before it was on DVD). Two oddball arrangements of the original series theme are on disc three – the liner notes reveal that these were recorded for use on the gag reels shown at the cast and crew's private end-of-season wrap parties.
This would be a four-star collection, except that a bizarre choice of Chattaway material makes the composer sound sleepy, when a different selection of episodes would've yielded much better music (Chain Of Command is very conspicuous by its absence). And again, La-La Land Records has found itself battling the age-old perception of TNG's music as synthesized dreck – after an impressive initial burst of sales (including the set's debut at the 2011 San Diego Comic Con), much of the inventory remained in the warehouse, casting doubt on the label's promise to mine the Deep Space Nine and Voyager music vaults. This nicely-prepared collection didn't deserve that fate, as a lot of it (chiefly discs 1 and 3) is better than even I remembered.
Music by Dennis McCarthy
Star Trek: The Next Generation Main Title Season 3 (1:49)

Haven

Haven / Harpies / Gifts (2:06)
Starship / Lost Love / Wyatt & Troi / Mom Arrives (3:26)
In Practice / Tradition / Cuestosity (Not Used) / Mental Flame / Leper Colony (4:44)
Petty (0:54)
Desert Panorama / Proposal / Tractor Beam (2:51)
Ariana / Plan to Die / Preparation / Alien Vessel / Departure / Next Adventure (7:54)

Hide and Q

Miracle Worker / Lights Out / Time Lapse (5:24)

The Big Goodbye

(You Came Along From) Out of Nowhere (3:24)

Conspiracy

Worf Down / Invader / Dinner Treats / Retching Remmick / Recovery / Cliff Hanger (7:44)

The Child

Rendezvous / Liaison (2:15)
Aucdet IX / Containment Out / The Birth Growth Spurt (5:11)

Elementary, Dear Data

Stardate / Holmes's Pipe / Holmes's Pipe 2 (0:54)
Denouement / The Challenge (0:57)

Time Squared

P-2 Arises / Hall Twins / P-2 Dies / Escape / No Repeat (6:08)

The Survivors

Music Boxer (1:03)
Telepathic / Kevin's Waltz / Unbridged (4:36)
Music Box (0:39)

Sarek

Logging / Solution / Mind Meld / Angstosity / Back to Reality / Goodbyes (6:26)

Conundrum

MacDuff Exposed / Meeting the Girls / Confused (4:40)

All Good Things…

Saved Again (2:27)
I Have a Gun (0:52)
Star Trek: The Next Generation End Title: Season 3 Long Version (1:55)

Music By Jay Chattaway
Star Trek: The Next Generation Main Title Season 2 (1:39)

Remember Me

Old Friend / Return to Starbase (1:06)
The Traveler / Through the Bubble (7:08)

The Host

Sorry / Jay (3:34)
No Pain, No Gain (2:04)
Can't Be Apart (2:18)
Surprised / Last Waist Kiss (1:12)

Darmok

Doo Doo Occurs (3:04)
Telling a Story / Gone Forever (4:07)
Tired of Sitting Around / What's a Life Worth? (4:55)

Silicon Avatar

Running for Cover / Someone's Comin' (3:25)
So, We Finally Meet (3:51)

The Perfect Mate

Hard to Resist (3:07)
I've Bonded With You (1:19)

I Borg

The Borg Pick Up Hugh (2:40)

The Inner Light

Lullaby #1 (0:50)
Naming Dance #1: alternate (1:15)
The Answer to a Mystery / Lullaby #1A (4:20)

Relics

Scotty's Bridge (0:40)
Captain in Rank Only / Scotty to the Rescue / Mister Good Hands (4:43)

Starship Mine

Greedy Double Crosser / Fight to the Death (6:51)

The Chase

Message Received (2:50)

Journey's End

War or Peace / Wes Goes on His Way (6:08)

Bonus Tracks from The Inner Light:

Naming Ceremony, Alternate (Not Used)

(1:20)

Naming Dance, Up-Tempo Version (Not Used) (1:08)
Star Trek: The Next Generation End Title: Season 3 Short Version Alternate (0:48)

Other Composers
Star Trek: The Next Generation Main Title Season 3 (1:49)

Code of Honor – music by Fred Steiner

Sky and Starship / Meet Lutan / Lutan Impressed (2:43)
Bronze Horse / To the Holodeck / Snatch Tasha (1:50)
Waiting / Code of Honor II (1:39)
Chez Lutan / Lutan's Honor / The Centerpiece / Yareena Upset / Combat Ready / Hatching a Plan / Code of Honor Again (4:16)
Code of Honor (Not Used) / Yareena's Threat / The Glavin (2:12)
Officer's Log / Competition / Deadly Blow / She Lives / Poor Lutan / Mission Accomplished (6:39)

Face of the Enemy – music by Don Davis

Troi Delirious (1:35)
Ear Trauma / Romulans in Romuland / Troi Trouble (1:29)
It's Huge / Riker Ridiculous (Not Used) / Jean-Luc Benign / Romulan Dissident Mummies / N'Vek Trek (3:32)
Clash of the British Titans / Placating Picard / Untitled / Face of the Enemy (Act Out) (3:27)
Toreth's Revenge / N'Vek Nervosa (5:48)
Destructed Plan / Another Cruel Hoax / Noble N'Vek Dies for Our Sins (8:15)

The Pegasus – music by John Debney

New Orders / Pegasus (0:22)
On Impulse /Romulans Appear: alternate / Stand Down / Pressman Plots (2:06)
Act In / Scanning the Belt: alternate (3:31)
Romulans Depart / Duty Calls / Riker's Dilemma /Relieved of Command (2:43)
The Discovery / Trapped (5:12)
Secret Weapon / Federation Cloak / Second Chance (6:57)
New Orders: alternate (0:22)
Romulans Appear: alternate (1:03)
Stand Down: alternate (0:38)
Scanning the Belt: alternate (3:17)
Secret Weapon: alternate (3:53)
Star Trek: The Next Generation Bumper Season 1 (0:06)
Star Trek: The Next Generation Bumper Season 3 (0:08)
Theme From Star Trek – Polka Version (0:55)
Theme From Star Trek – Torch Song Version (1:34)
Star Trek: The Next Generation End Title: Season 3 Short Version (0:48)

Released by: La-La Land Records
Release date: 2011
Disc one total running time: 79:06
Disc two total running time: 77:17
Disc three total running time: 79:32