Due to the much-longer-than-usual nature of this in-depth review, and in an attempt to save everyone's sanity who isn't interested, you'll have to click on "more" below to read the full text.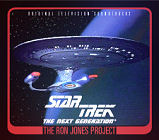 In the summer and fall of 1990, fans of Star Trek: The Next Generation were in frothing-from-the-mouth overdrive: they were busily speculating about the conclusion of the best cliffhanger that TNG would ever produce, and obsessing over their freshly-recorded VHS tapes (remember those?) of the season finale. Repeated viewing of The Best Of Both Worlds Part I yielded numerous insights, namely that the show really had gotten that good, and that this Ron Jones guy who did the music for the episode was on fire. A year later – an agonizing lag compared to how quickly TV music seems to be released these days – GNP Crescendo gave the world the soundtrack to both parts of Best Of Both Worlds, landing themselves a legion of grateful fans and an award for the best indie label soundtrack release of the year.
Some of us, however, had been paying attention to the music credits for a long time, and Ron Jones had been on the radar of musically-aware fans since season one. The cruel irony, of course, is that 1991 also marked the end of Jones' involvement with the Star Trek series, and the rest of the TNG music released by Crescendo was from composers Dennis McCarthy and Jones' replacement, Jay Chattaway, both of whom remained with the franchise until Star Trek: Enterprise went off the air in 2005. Barring a short two-part suite of music from the season one Klingon episode Heart Of Glory on 1996's Best Of Star Trek CD, and despite the fact that Jones had gone through his archives and presented Crescendo with enough material for Klingon and Romulan themed TNG soundtrack collections, nothing else was forthcoming from TNG's musical golden boy.
He still had fans, though, including yours truly, and including Film Score Monthly founder Lukas Kendall. As Film Score Monthly spawned a label and ultimately ceased to be a paper magazine, the idea of a Ron Jones TNG collection never went away. While even the most expectant fans might have bet on a CD here and there, nobody could've envisioned what Kendall had in mind: a 14 CD box set consisting of nearly every note Ron Jones composed and recorded for Star Trek: The Next Generation – in short, the full soundtrack for every episode Jones scored, not just the ones that everyone remembered well. With the possible exception of the (ultimately truncated) series of Babylon 5 episode scores on CD, nothing like this had been attempted for TV music.
And you know, there's a reason for that. Speaking of Babylon 5, I interviewed the much-maligned (and very unjustly so) composer Evan Chen, who did the music for the short-lived B5 spinoff Crusade, and complimented him on the fact that he wasn't repeating the same music over and over like Christopher Franke had done. Mr. Chen advised me to re-assess my standpoint: Franke had scored 110 episodes, plus movies, on a weekly basis, while Chen had scored a baker's dozen of episodes of an already-cancelled series. Of course Franke had repeated material: sometimes in the name of thematic development, but also sometimes in the service of the crushing deadlines he faced, and inevitable bouts of musical writers' block. Evan Chan was, of course, right (and he even admitted to having trouble coming up with new material for Crusade – had the series not been canned, he was already scoping out potential collaborators to alternate with, including Doctor Who composer Mark Ayres).
That story comes back to mind while listening to Ron Jones' music for TNG. While the Borg-like collective of Trek fandom was singing Jones' praises endlessly, myself included, it's easy to hear the building blocks of the Best Of Both Worlds music with which we were all so enamoured, all the way back to the first season. Best Of Both Worlds was, in essence, his graduate thesis – everything had been leading up to that point for quite a while. There's a vocal portion of fandom that extols the virtues of Jones' music while kicking Jones' opposite number, Dennis McCarthy, for not being as innovative and bold. But after listening to the 13 CDs of this set that contain Jones' Trek TV work (the last disc features his music from a pair of Star Trek computer games), if repetition of material or style is a sin, then McCarthy and Jones are both guilty of it – likely for precisely the reason stated above.
There's also the well-known matter of both men – and their later colleagues – having to deal with increasingly tight restrictions on the musical "house style" of TNG. Initially, the show's music was under the watch of classic Trek producer Bob Justman, who echoed Gene Roddenberry's liking for bold, attention-getting music. Justman and Roddenberry's preferences had, after all, led to the library of classic Trek scores, all of which were repeated to the point that they oozed into the pop culture bloodstream by osmosis (see also: The Cable Guy's parody of the over-the-top – but effective and memorable! – fight theme from Amok Time). Justman, who had come out of semi-retirement only at Roddenberry's behest, was already working on returning to that retirement, and a young Paramount executive named Rick Berman was taking over his responsibilities. Berman's musical preferences were virtually the exact negative-image opposite of Justman's: he wanted the music to blend into the background. McCarthy complied because he wanted to keep his job (an understandable and commendable response when you've got a house full of kids), while Jones continued carving a highly individual sound, treating each episode as its own movie with its own thematic material.
Both also had to deal with music budgets that were bigger than most shows in 1987, but given that Paramount was wading into uncharted waters by putting an expensive science fiction drama into first-run syndication, corners were cut. Synthesizers are, in places, painfully obvious – but they were also the flavor of the day, so they didn't stand out as much then as they might now.
All of these caveats aside, if you're of a certain age where you hung on every word of every adventure of Captain Picard and crew once a week, back when TNG episodes ended with previews for next week that had "ALL NEW EPISODE" across the bottom of the screen, at the very least this set is a fantastic nostalgia trip. There's at least one big memorable musical moment per episode, and the real early standouts like Where No One Has Gone Before, 11001001 and Skin Of Evil are wall-to-wall goodness. The first season scores are in many cases the best for a variety of reasons: both the Alexander Courage and Jerry Goldsmith Star Trek themes are quoted relentlessly (which, in my opinion, only helped to solidify the Goldsmith/Star Trek: The Motion Picture theme as the new show's signature), and I also don't use the phrase "wall-to-wall" lightly: with the early episodes taking uncertain steps on hallowed ground, the show's music was abundant and prominent, serving as the emotional glue when the people behind the scenes were uncertain of the stories' emotional impact after going through the hands of so many writers. Many of the first season scores weigh in at around half an hour – a staggering amount of music for a show that, minus commercials, ran roughly 45 minutes per episode.
Some of the first year's less well-known installments serve up some great music too: the pounding staccato synths of We'll Always Have Paris surprised me, in that I didn't remember hearing anything like that in the episode; Lonely Among Us delivers a musical atmosphere appropriate for one of the weirdest early episodes; and The Neutral Zone's Romulan motif is neat when it appears as a purely synthetic refrain (while the Romulans are spotted only at a distance on sensors) and then blossoms into a full-blooded, theatening orchestral theme when the huge Romulan ship makes an appearance in person. If there's a surprise hit among the first season score, it's We'll Always Have Paris, an episode that – truth be told – I've never liked. But away from its rickety story, the music is intricate and amazing, even the bits that sound like the "orchestral stab" sound on an old Casio.
The second season, just as troubled as the first, had an uneven helping of scripts thanks in no small part to a late start from the 1988 Writers' Guild Strike. Jones comes out swinging with his first episode, Where Silence Has Lease, but the strangeness of episodes such as The Outrageous Okona works against coherence, whether it be narrative or musical. A Matter Of Honor and The Royale are stronger, the latter episode much derided by Trek fans but providing a fun bit of fourth-wall-busting combination of the show's usual scoring style and a brassy, prime-time-soap style. The real season two standout, however, is the cinematic Q Who?, which introduces the Borg with the largest orchestra that the series would ever hire (even the follow-up episode, the all-time fan fave The Best Of Both Worlds, would sport a smaller orchestra bolstered by synths).
Season three's offerings are a big improvement, with numerous standouts – fan favorite Booby Trap, season opener Evolution, the Cold-War-drama-disguised-as-Romulan-intrigue episode The Defector (which bucks Rick Berman's reported no-recurring-theme dictum by bringing back the Romulan motif from The Neutral Zone), and the subdued Troi romance episode The Price. Even episodes that aren't remembered fondly have at least at least one great piece of music, among them the lush opening "art school" scene of A Matter Of Perspective, or Wesley's first scene as a uniformed Starfleet officer in Menage a Troi.
Due to licensing issues – apparently GNP Crescendo has a perpetual lock on the material from The Best Of Both Worlds that appeared on their 1991 CD – we're denied a fully remastered version of Jones' best-known Trek score. As a consolation prize, we get five minutes of previously unreleased music – mostly exceedingly short cues – from both parts of that story.
The fourth season, alas, has a knack for sounding just like The Best Of Both Worlds. I remember, even on first viewing its premiere, the episode Brothers having action music almost identical to the Borg two-parter. On CD, we're presented with an extended selection of Brothers music charting the episode's torturous recording sessions (due to an early MIDI-rigged Synclavier synth that, oddly, couldn't synchronize to the standard-definition video frame rate of 30 frames per second). But even fourth season standouts like Reunion and The Nth Degree show a great deal of Best Of Both Worlds influence. As much as fans like to diss Dennis McCarthy for repeating material, the heavy workload was causing Jones to do the same thing.
The last burst of wild innovation comes with the score from the somewhat lamentable episode Night Terrors; Jones took the extremely expensive step of hiring a choir and writing "lyrics" for them to not so much sing as speak – an element which was knocked so far down in the find sound mix that the voices were completely lost. The music as heard in the episode is presented alongside its contemporary season four scores, while most of the previously unheard experimental voice material can be found on disc 13, which is dedicated to outtakes and alternates. With the very low-key music from The Drumhead, Jones' Star Trek resume – at least on TV – comes to an end.
Disc 14 presents some of the best music in the entire set, combining Jones' material from the PC games Starfleet Academy (some of which was previously available on a hard-to-find promo CD) and – for the first time on CD – Starfleet Command. (Some of the Starfleet Command music had been made available, circa 1999, as a handful of blink-and-you'll-miss-it MP3 downloads.) It's the music from Starfleet Command that makes one wonder wistfully what Jones could've done with Deep Space Nine and beyond. (It definitely doesn't sound like The Best Of Both Worlds.)
Is a 14-CD set of Star Trek music for everyone? Hell no. If there was ever a product that was made for the diehard fans, The Ron Jones Project is it. This was released in the autumn of 2010, and I haven't gotten a review written until early 2011 because even I – Trekkie that I am (and a serious TNG fan to boot) – couldn't listen to all of this, consecutively, in the same week. Or even necessarily the same month. You have to like Star Trek, and Star Trek soundtracks, and hopefully you already like Jones' music in particular; unless you're a crazy Trek soundtrack completist, The Ron Jones Project is a pretty expensive, 16+ hour gamble if you haven't already got an affinity for the style of music presented here.
Disc 1: Season 1

The Naked Now (22:49)

Rendezvous With Tsiolkovsky / Impossible Happens / The Frozen (3:29)
Captain's Log / Hot Head / Geordi Leaves (1:51)
Longing for Sight (1:51)
Change of Style / Suck Face / Collapsing Star / Wesley's Takeover (1:43)
No Control / Needing Love (2:25)
Troi's Feelings / We'll Be Dead (1:10)
Infection in Control / Running Out of Time / Horny Doctor (2:36)
Exploding Star (2:13)
Our Only Hope / Placing the Chips / One More Minute / Hypos / Repulsor Beam (4:22)
Ending (0:45)

Where No One Has Gone Before (21:15)

Log / Visitors / Concerned / Fly-By / Wes and the Traveler (2:26)
The Test / Double Warp / Long Way From Home (2:40)
Long Distance / Dangerous Nonsense (2:01)
Beyond Velocity (1:45)
Billion Light Years Away / Targs, Cats, Imagination (2:21)
Eine Kleine Nachtmusik (Mozart) / Waltz of the Chocolate Donut / Eine Kleine Nachtmusik (1:02)
Talk With Mom (2:04)
He's Dying / Unknown Physiology / Encourage / Concentrate / No Choice (2:39)
Center Your Thoughts / Warp Home (2:48)
Ensign Wesley (1:07)

Lonely Among Us (22:35)

Taking Aboard Delegates / First Contact / What Happened? / Second Contact (2:59)
Not Herself (2:24)
Malfunction / Conference / Antican Deception / Systems Down / Mr. Singh's Death (2:34)
Investigation / Feelings of Duality / Everything's Fine (2:11)
Reverse Direction / Questions (1:54)
Officers' Meeting / Alien Influence / Home Soon (2:35)
Riker's Log / Entity and I / Transporting to Energy (4:26)
P for Picard (2:09)
Picard Is Back / Leave It to Riker (1:02)

---

Disc 2: Season 1

The Battle (20:29)

Stand By / Bok's Deception (2:37)
Med Scan / Ferengi Beam-Over / Hero of Maxia / The Gift (2:42)
Supplemental / Memories (1:02)
Caught Up / Stargazer (1:12)
Hello Old Friend / Old Quarters / Bad Dream / No Provocation (3:03)
Confession / Try to Relax / Past Relived (3:05)
Waves / Collecting an Old Debt (3:19)
No Response / The Battle (1:44)
Destroy the Sphere (1:28)

Datalore (25:00)

Omicron Destination / Home Sweet Home / Welcome Home (1:20)
Omicron Arrival / Data's Beginning / The Lab (3:35)
Data's Brother (1:13)
Data's Hope / Android Operation / Lore / Trick Question / Suspicion (2:55)
Perfect Android (3:10)
Image / Bad Champagne (2:37)
Deception / Crystal Entity (2:41)
No Answer / Wesley's Opposition / Head Kick (1:42)
Crystal Attacks (1:39)
Knock Out / Droid Battle / All Is Well (3:45)

11001001 (29:56)

Docking at Starbase 74 / Eyes (2:22)
The Enhancement (1:48)
Jazz (John Beasley) (1:16)
Bynars (0:27)
The Nearness of You (Ned Washington & Hoagy Carmichael) (4:10)
I Remember You (Johnny Mercer & Victor Schertzinger) (2:09)
Abandon Ship (1:51)
Stealing the Enterprise (3:22)
Isn't It Romantic (Richard Rodgers & Lorenz Hart) (1:30)
Don't Go / Regain Control / Weapons (2:04)
Auto-Destruct (2:27)
Help Us / Cancel Destruct (1:55)
Access the File (1:28)
Back in Order (1:05)
Nearness of You (Washington & Carmichael, arr. Jones) and Ending (1:23)

---

Disc 3: Season 1

When The Bough Breaks (27:30)

Escape From Calculus / Myth Becomes Reality (2:21)
Aldean Log / Radue and Rashella (0:44)
Interesting Choices (1:08)
Scanning the Children (0:51)
The Trade (2:02)
Act of Barbarity / Hand Shake / Regrets (2:04)
New Parents / Keep Them Talking (2:39)
Custodian / Power Source / Tricorder Fun / Demonstration of Power (3:02)
Music Lesson / Mind Music (1:31)
Log of Three Days / The Dolphin (1:49)
Passive Resistance (2:22)
Diagnosis / Through the Hole (1:34)
Captain and Kids / Doomed by Technology (4:02)
Attack of the Killer Fur Ball (0:56)

Heart Of Glory (25:42)

Battle Signs/ Possible Trap (2:22)
Questions / Geordi-Vision (1:17)
The Corridor (1:56)
Looking for Life Signs (2:30)
Klingon Sting / Imminent Destruction (1:52)
Keep You Posted / Damn / Klingon Death Ritual / Warp Me Babe (2:26)
A Klingon's Feelings (2:52)
Moment of Decision (2:18)
Hostage / Not That Easy / Let's Make a Phaser (2:59)
Making Demands (1:16)
What's the Sit / Heart of Glory (2:25)
Wouldn't Be the Same (1:08)

---

Disc 4: Season 1

Skin Of Evil (32:24)

Crossing Zed Lapis / Sure Thing / Crash Landing / Lost Contact (3:00)
Strange Readings From Vagra (2:05)
Blocked Path (2:07)
Trouble on Vagra II / Yar Is Down (4:19)
Confessions of a Slime Ball / Worf Remains (1:22)
It's Not Easy Bein' Slime (1:01)
Skins Game (3:42)
Grave Danger / Let Him Go (1:41)
Entertain Me (1:39)
Spits Riker Out / Between You and Me (1:33)
Skin of Evil (2:53)
Tasha's Goodbye (6:35)

We'll Always Have Paris (25:38)

Fencing / Time Distortion I / What Was That? / Manheim Message (2:21)
Towards Pegos Minor / Mixed Feelings / We'll Always Have Paris (5:18)
New Coordinates / Rescued From Vandor (2:05)
Seeing Her Again / We Are Us,They Are Us / Transport Trouble (2:09)
Touching Another Dimension (1:56)
Fear of Staying (1:51)
Crusher's Wish / Take Care of Her (1:43)
Lab Visit (1:48)
Countdown (1:56)
Out of the Tunnel (1:50)
We'll Always Have Paris Reprise / You're Buying (2:16)

The Neutral Zone (17:14)

Waiting / Explorers / The Fridge / Frozen (2:36)
Trouble Zone (0:58)
Transition I / Thawed to Life / Welcome to the 24th Century (1:30)
Sonny & Data / Low-Mileage Pit Woofies (1:37)
Clare's Hope / No Party Romulans (0:58)
No Outposts (1:03)
Romulan Encounter (3:17)
We Are Back (4:25)
Mission Forward (0:34)

---

Disc 5: Season 2

Where Silence Has Lease (28:07)

Worried / Exercise (4:30)
Toward Morgana Quadrant / Enveloped by Darkness (2:34)
Void / Going Nowhere (2:17)
Fake Attack (0:52)
Ghost Ship (1:35)
Fly in Amber / Games (1:15)
Rats in a Maze (4:31)
The Hole / Ugly Nothing / Experiment in Death (2:01)
Dilemma / Fatal Decision (2:00)
First Gymnopédie (Erik Satie) (3:29)
Auto-Destruct / Steer Clear (2:43)

The Outrageous Okona (21:48)

Erstwhile Encounter / Normal Routine (2:01)
Link Up / Introductions (2:55)
Questions (1:43)
Ten Forward (1:54)
Endless Night (1:19)
Unidentified Vessel (1:22)
Shades / Get Okona / Dishonored (2:40)
Ancient Codes / Easy to Leave (2:51)
Staying / Yanar's Choice / Resolved (2:13)
Comedy Spotlight / Something for Data (0:23)
Discontinue Comic (2:05)

Loud As A Whisper (21:53)

Diverted to Ramatis / Bothered / Ramatis Vibes #1 / I Hate Play-Ons (1:51)
Ramatis Vibes #2 (5:09)
Meet Riva / Emotional Revelation (1:57)
True Meaning (2:17)
Time to Go / Cease Hostilities / An End to Killing (1:15)
Solais Five / Tragic Meeting (2:31)
Not Alone / Monitoring Solais / Riva's Self-Pity (2:20)
Normal Eyes / Disadvantage to Advantage (1:48)
Return to Solais (1:07)
Peacemaker's Peace / Well Done (1:19)

---

Disc 6: Season 2

A Matter Of Honor (17:49)

Stardate 42506.5 / Things Will Be Different / Meeting the Pagh (1:43)
Bacterial Colony / Inconclusive / Two Starships / Pagh Departs (1:00)
Impress Me / Challenge to Authority (2:28)
No Warning (1:46)
Etiquette / Expressing Feelings (1:54)
This Means War (2:08)
Encouraging Mendon / Status Unchanged / Fifteen Minutes (1:50)
Report / Promises of Help (0:54)
Riker Takes Command (3:48)

The Royale (15:34)

Theta Eight Log / Puzzle Piece (1:02)
Eye of the Storm / Royale Entrance (2:48)
Who's Afraid of Mickey D (0:48)
Not Alive / No Exit (2:20)
Feeling Trapped / Finally Getting Smarts (1:20)
Dead Guy / Now We Understand (1:57)
Rita Called (0:37)
The Shootout / Bizarre Incident / We're Buying It / Sequential Consistency (1:47)
Hot Hands / Done Deal / Three to Beam Up/ Last Theorem (2:35)

The Icarus Factor (14:07)

Captain's Log / Congratulations / Sync Orbit (0:52)
Cool Reception / Walls / Family Photos (1:37)
The Right Thing / Hand Out / P.C.S. (Pulaski's Chicken Soup) (0:38)
Emotional Baggage (1:13)
What Makes Us Human / You're On / Scuttlebutt (0:50)
Ascension Chamber (1:28)
Rite of Ascension (2:49)
Anbo-Jyutsu (2:51)
Resolution / Riker Stays (1:35)

Q Who (27:19)

Courtesy / Q Who? (1:01)
Sensing Trouble / Prisoner (1:51)
Search / Proper Venue (1:58)
Old Enemies (1:07)
Spin Out (1:50)
Yellow Alert / Intruder (1:32)
The First of Many (2:59)
Attacked / Stay (2:35)
Away Team / Stasis (3:30)
The Nursery (3:11)
Out of Your League / Let's Get Out of Here (4:02)
They Will Be Coming (1:14)

---

Disc 7: Season 2

Up The Long Ladder (21:01)

Feeling Sick / Emergency / Signal Search (1:28)
Klingon Tea Ceremony (2:04)
Situation / Bringloidi Refugees (0:45)
Chicken / Quite Sure / Brenna (1:33)
Riker and Brenna / The Other Colony (1:30)
Foot Sex (2:01)
I Got a Red Nose From the Wearin' o' the Green / Drop of the Creature (2:16)
Clones (2:03)
The Meeting / Taking Tissue Samples (1:39)
The Cloning Lab (2:16)
Terminal Fading / Shotgun Wedding / Hand Shake / Bringloidi, Bringloidi, Send Cloney On Over (2:22)
Three Husbands (0:46)

The Emissary (23:14)

Enigmatic Message (0:49)
Boradis Destination / Probe (2:57)
Emissary / Uncomfortable Meeting (1:05)
Unfinished Business / The Argument (2:07)
Broken Glass / The Glove (0:58)
Exercise Program (3:54)
Wipe That Klingon Smile Off Your Face / The Oath of Bonding (1:58)
Cloaked Enemy (1:04)
The Option (5:10)
Meaning (2:53)

Shades Of Grey (25:43)

The Wound / Strangest Feeling (1:43)
Situation / Riker Could Die (1:18)
The Sample / No Error (1:41)
All Negative / Persistent Bug (0:35)
Infection Spreads / First Waves (4:04)
Patterns / Dream State / Pinocchio / Tell Me More / Hug (1:46)
Shades of Pleasure (1:37)
Earth Boys Are Easy / Doubled Growth (1:45)
Shades of Sadness (2:36)
Isolated Memories / Vital Signs / Refocus (0:44)
Critical Condition / Shades of Conflict / Final Intensities (7:03)
Comedy: The Final Frontier (0:29)

---

Disc 8: Season 3

Evolution (16:01)

Double Star (1:28)
System Failure / 30 Seconds to Impact / Food Slot (2:56)
Computer Daydreams (1:45)
Traps / Good Grade / Tampered Core (1:28)
Bad Air (1:04)
Matter of Survival / Stubbs Gets It / Contact (2:29)
Nanite Negotiations (3:03)
The Blast / Motherly Paranoia (1:29)

Who Watches The Watchers? (24:03)

Repair Mission / Blind Down (1:05)
Help Arrives / Distant Light (0:47)
The Vision (3:20)
Liko Sees God (1:13)
Ancestors' Beliefs (0:52)
Riker's Ideas / Contamination Gets Worse (1:10)
Saving Palmer (3:07)
Punishment / Beam Nuria (1:59)
We Are Flesh and Blood (2:26)
No More Fear (1:01)
Nuria's Plea / Divine Encounter (1:04)
We Have Limits (3:21)
Getting the Point (1:19)
Nothing Beyond Reach (0:47)

Booby Trap (13:50)

Moonlight and You (0:42)
Ancient Warship (1:01)
Ancient Battle Site / Promellian Vessel / Ready to Return (2:38)
The Trap (1:28)
Motionless / Leah / Question (0:45)
Leah Comes to Life (0:53)
Experiment Failed / Shut Down / Crystal Breakdown / Working on It / Only Way / 26 Minutes / Possibility (1:57)
Human Factor (3:30)
Touch (0:35)

The Price (19:05)

Troi's Mood / Sensing / Looks (2:01)
Orbit of Barzan / Seduction / Readings (1:34)
Late for Dinner (2:33)
Higher Stakes / Into the Hole (0:35)
Troi and Ral (3:51)
End of Hole (1:21)
Stretching (1:45)
Seeds of Doubt / Manipulation / Time to Go (2:25)
Ethics / As the World Turns (0:27)
The Price (2:09)

---

Disc 9: Season 3

The Defector (17:18)

Scout Ship (1:01)
Rescue (3:00)
Scout Ship Explodes / Warning / Suicide Pill / Possibility / Black Matter (1:34)
Interrogation / Ionizations (1:28)
Valley of Chula (1:13)
Cooperation (1:01)
Treaty Violation / Betrayed (1:52)
The Stand-Off (4:42)
Suicide (1:12)

The High Ground (15:14)

Planet of Discontent / Abduction (0:44)
No Trace / A Hostage / Hostage Policy / No Reason to Kill (1:21)
Infirmary / Martyr / Willing to Die / Killing Plans (2:20)
Terrorist Attack (3:14)
Aftermath / Message (1:50)
Cave / The Pad (2:13)
Imperfect Solution (2:13)
Take Us Out (0:59)

A Matter Of Perspective (13:26)

Perspectives / Update / Clearing the Signal (2:05)
Investigation / Chief Investigator (1:53)
Orders (1:13)
Programming Computer / Krag I (1:56)
Evidence / Manua Enters / Freeze (1:24)
Fatal Neckties / Radiation (1:30)
Don't Worry / Go Ahead, Worry / We Know / Barrister Picard (1:18)
Final Evidence (1:47)

The Offspring (19:11)

Another Day in Space / Data's Child / Report / Lab Meeting / The Big Decision / It's a Girl (4:33)
Learning to Sense / Learning Skills (2:47)
Click Off / Misfit / Admiral's Warning (0:59)
Beloved / Contraction / Question of Ability / The Kiss / Gesture of Affection (3:00)
Opinions / Interview / What It Means to Feel (1:50)
Before the Storm / Lal's Death (5:04)
Thanks for the Memory Chips (0:39)

---

Disc 10: Seasons 3 & 4

Allegiance (23:43)

All's Well / Captain's Abduction (2:07)
No Hurt / False Picard / Change of Plans / Esoqq's Arrival (1:37)
We Are Prisoners / Questions of Confidence / Late Night Snack / No Escape (2:40)
Night Strings (2:40)
I Only Gag When You're Near (4:35)
Suspicion / Realization (2:20)
Mutiny (2:06)
Defiance (1:04)
Experiment Over / Taste of Captivity (3:53)
The Look (0:19)

Menage A Troi (18:04)

Reception / Tog's Proposition (1:34)
Betazed Garden / Abduction (1:37)
Wake Up / No Clothes / Play Along With Tog / The Kiss (2:08)
Gamma Nebula (0:51)
Oo-mox (2:17)
Fulfilled / Farek's Deal (1:32)
No Clue / Flowers / The Adjustment (1:59)
The Message / Wes Is Back / Signal (1:50)
Agreement / Convincing (2:41)
Real Ensign (1:19)

Brothers (33:21)

No Joke / Spirit Lifter / Jake & Jerk (1:12)
Data Takes Over (5:44)
Talk With Willie / Preparations (1:22)
Cascade Sequence (3:16)
Really You / Worries / Reunion (2:31)
Soong Is Dying / Gift for Data (3:03)
Sleight of Hand / Wrong Data (2:37)
Goodbye, Father / Reconciled (broadcast ending) (2:09)
Jake