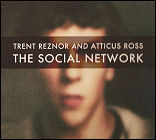 The surprise Oscar winner for best score, this is the soundtrack of the ripped-from-the-headlines-and-then-Sorkinized film about the birth of Facebook, and the tumultuous tug-of-war over the ownership of the ideas and code behind it. With geek DNA permeating the entire story, it's virtually a no-brainer that the movie would get an electronic score, and with that in mind, director David Fincher turned to Nine Inch Nails' Trent Reznor and his frequent collaborator Atticus Ross for the music.
Where this combination of talent really kicks in is on track 2, "In Motion", which is a percolating electronic tour de force, piling on more and more layers of complexity and harmony as the tune progresses. It starts to edge into chiptune territory at times. It's bright and jittery and punchy, and even the multiple false endings don't become annoying, as it quickly resumes with even more layers of complexity. "Intriguing Possibilities" is another highlight, combining a similarly complex electronic sound with guitar licks that remind me a bit more firmly of Nine Inch Nails.
Other tracks lean a bit more in a retro direction, with the "Pieces Form The Whole" and "Carbon Prevails" combining more recent electronics with retro keyboard sounds. There's also an ever-present piano in most of the tracks preventing things from sounding too otherworldly. A version of Grieg's "In The Hall Of The Mountain King" is gleefully noisy and nigh-on-epic.
One question I kept coming back to was "Was this an electronic score more worthy of an Oscar nomination, let alone a win, than Tron Legacy?" That's a tough one. There's precious little here that's sonically new if you've spent much time listening to Nine Inch Nails at all – in fact, a few of the pieces are
even adapted directly from some of NIN's more recent output – but for most members of the Academy, the Tron sequel's music sounds more like what one expects from film music, whereas Reznor and Atticus' opus doesn't. Some folks may still be shaking their heads at Reznor winning an Oscar for best film score, but let's face it: The Social Network sounds like nothing else in recent memory. That the music managed to cut through the sheer density of Aaron Sorkin's wall-to-wall dialogue in places is almost a wonder. It's worth a listen at the very least, and probably the trophy too.
Hand Covers Bruise (4:18)
In Motion (4:56)
A Familiar Taste (3:35)
It Catches Up With You (1:39)
Intriguing Possibilities (4:24)
Painted Sun In Abstract (3:29)
3:14 Every Night (4:03)
Pieces Form The Whole (4:16)
Carbon Prevails (3:53)
Eventually We Find Our Way (4:17)
Penetration (1:14)
In The Hall Of The Mountain King (2:21)
On We March (4:14)
Magnetic (2:10)
Almost Home (3:33)
Hand Covers Bruise, Reprise (1:52)
Complication With Optimistic Outcome (3:19)
The Gentle Hum Of Anxiety (3:53)
Soft Trees Break The Fall (4:44)

Released by: Null Records
Release date: 2010
Total running time: 66:10