22 years after the series first premiered in American syndication, this collection of music is finally available, featuring music from Bob Sakuma's original Gatchaman soundtrack (previously reviewed here) as well as the material composed by the late Hanna-Barbera maestro Hoyt Curtin especially for the extensively re-edited American version of the show.
But like so many things from our childhoods, it might just be that the anticipation for the Battle Of The Planets soundtrack outweighs the actual product. Some of Hoyt Curtin's music is very good, drawing in equal measure from disco and John Williams' Star Wars style, while other cues draw more heavily from the former. In places, it sounds like Meco. And while that's no slight to Meco or to the late Mr. Curtin, who died just last year, it definitely dates the proceedings. To be fair, Bob Sakuma's original score for Gatchaman also sports some disco stylings, so the two actually dovetail quite well.
For those who splurged on the Gatchaman soundtrack already, you may want to declare victory there – a great deal of the original Gatchaman BGM (background music) release is duplicated on this CD, though with slightly better sound quality. However, you won't find the cheerful children's choir singing "Destroy Gallactor!" in Japanese on this CD, so maybe it is worth it to track down both titles. Still, I appreciate the effort to include the original Bob Sakuma score – if not for these tracks, the CD would've had a dismally brief (not to mention unjustifiably expensive) running time of just under 35 minutes. Truth be told, only a few purists and fanatics like myself will probably have the original Gatchaman CD, so I doubt very many will be complaining about duplication of material.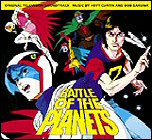 Included as bonus tracks are the audio tracks from six television promos for Battle Of The Planets, as well as a second version of the theme song complete with robust narration – "G-Force! Princess! Tiny! Keyop! Mark! Jason!" – though this version suffers a lot in the sound quality department. It's very likely that it had to be sourced from a 22-year-old video master tape somewhere.
Some of my favorite cues from Hoyt Curtin are those composed for the scenes of robot advisor 7-Zark-7 (and his equally robotic dog, 1-Rover-1). As is generally well-known, these robots didn't exist in the original Japanese series, added at the behest of American syndicator Sandy Frank to further solidify the Star Wars cash-in by including cute robots to comment on the action (and to fill out the vast amounts of program time which were lost with the surgical removal of the original show's near-legendary violent scenes). The robots' cues are bizarrely calliope-like, using trippy late 70s synths for what once passed for a futuristic sound.
If you're ready for a trip back in time, complete with sometimes painful reminders of how discofied incidental music could be back then, then I give this CD a hearty four-star recommendation. But if you're expecting to compare it to Goldsmith, Williams, Horner and/or Silvestri, maybe you should give up and save your money for something more modern. Despite the disco elements, I thought it was an excellent vehicle for some childhood nostalgia – and, of course, a
full-page ad for Rhino's upcoming Battle Of The Planets video and DVD releases this fall is included in the liner notes booklet. (The booklet may just be the real prize of this release, with extensive biographical notes on both Curtin and Sakuma and previously unknown facts about their involvement in the series. I was a little surprised to read that Sakuma based his music on the early 70s style of Chicago!)

Battle Of The Planets – music by Hoyt Curtin (1978)
Battle Of The Planets main title (1:32)
Love In The Afterburner (1:29)
Ready Room (2:02)
Alien Planet (2:52)
Phoenix Raising (2:11)
Space On Fire (2:08)
Robot Hijinks (0:58)
Alien Trouble (1:25)
Return To The Alien Planet (3:00)
Melting Jets (0:53)
Romance In An Afterburner's Light (1:30)
The Robot's Dog: 1-Rover-1 (0:54)
Firefight (1:35)
Alien Trap (2:20)
7-Zark-7's Song (1:23)
More Alien Trouble (1:29)
The Chief Alien Shows Up (0:34)
Come Out, Come Out (1:30)
Victory (1:09)

Gatchaman – music by Bob Sakuma (1972)

Emblem G (3:10)
Spectra Versions (3:50)
Fighting Phoenix (3:22)
Coral Reef (0:26)
Crescent Moon (3:17)
Holding Up A Shade (3:37)
Zoltar, Fastening The Armor (0:32)
Fighter G (3:54)
Red Illusion (4:37)
The Earth Is Alone! (1:53)
A Vow To The Sky (3:12)
Countdown (3:39)
Like The Phoenix (3:26)

Bonus Tracks

Promo #1 – The Luminous One #1 (0:32)
Promo #2 – G-Force vs. Zoltar (0:32)
Promo #3 – 7-Zark-7 and Company (0:32)
Promo #4 – The Luminous One #2 (0:32)
Promo #5 – Commander Mark, Jason (0:32)
Promo #6 – Princess, Tiny, Keyop (0:32)
Battle Of The Planets main title reprise with narration (1:31)

Released by: Super Tracks Music Group
Release date: 2001 (re-released by Silva in 2004 with different track list)
Total running time: 73:32