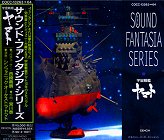 Now here's a different approach to a greatest hits album. As you've probably guessed, Sound Fantasia Yamato is a collection of notable background music cues from the entire history of the franchise, ranging from the first season of the TV series in 1974 to the movie Final Yamato a decade later, with memorable musical moments from all points in between. That in itself would be nice, but the producers of this 2-CD set then went in and plastered sound effects into the music, trying to create a sort of dialogue-free audio scene with these two elements.
The sound effects are often cranked up pretty high in the mix, and the result is something which ideally should, but ultimately doesn't, focus on the music. Most of the actual music seems to have been lifted from Symphonic Suite Yamato for the earlier stuff, and directly from the soundtracks of the later chapters in the saga.
The first disc includes each of the sound effects in a section by themselves, with each effect given its own track. This is one of the only places to find the original Yamato/Star Blazers sound effects, so in that respect, Sound Fantasia Yamato is a real find for those who are into that sort of thing. Those looking for a good overview of the series' music, however, are likely to be annoyed at best, and disappointed at worst, by the layers of sound effects covering it.
Disc one
Opening (0:57)
The Universe Spreading To Infinity (5:24)
Yamato's Birth And Takeoff (8:28)
Decisive Battle (7:02)
Iscandar (4:09)
White Comet (7:50)
Yamato Takeoff (5:00)
Desslar (4:55)
Great Love (3:50)

Sound Effects:

Wave-Motion Gun (1:24)
Main Gun (0:26)
Pulse Lasers (0:10)
Smokestack Missiles (0:18)
Rocket Anchor (0:06)
Hangar Bay Door (0:14)
Main Nozzle (0:24)
Sub Nozzles (0:11)
Auxiliary Engine (0:19)
Wave-Motion Engine (0:49)
Flywheel (0:32)
Main Bridge (0:33)
Door (0:11)
Panel (0:30)
Yuki's Radar (0:12)
Video Panel (0:13)
Departure Alarm (0:24)
Emergency Alarm (0:27)
Cosmo Gun (0:08)
Analyzer (0:17)
Explosion 1 (0:26)
Explosion 2 (0:14)
Gamlius Base (0:38)

Disc two
Dark Star Cluster Empire (4:32)
New Cosmo Tigers (2:36)
Double Nucleus Bomb (4:55)
Within The Enemy Supply Base (3:04)
Double Galaxy (4:27)
Main Decisive Battle (6:11)
The Sun (6:23)
City-Satellite Uruku (4:06)
Pluto Naval Battle (8:15)
Aquarius – Planet Of Water (10:19)
Yamato's Sortie At Dawn (00:49)

Released by: Nippon Columbia
Release date: 1998
Disc one total running time: 56:48
Disc two total running time: 55:39