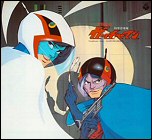 So, just doing some random Amazon browsing, I happened upon Symphonic Suite Gatchaman, and remembering what a fantastic, I'd-give-it-five-stars-if-the-ratings-didn't-only-go-up-to-four listening experience Symphonic Suite Yamato was, I jumped on it. Surely this would be some great stuff, reinterpreting Bob Sakuma's 70s-era-Chicago-inspired rock-orchestral incidental music into a bigger, bolder, fuller form. (You've heard Sakuma's outstandingly atmospheric music even if you've only seen Gatchaman's English-translated, heavily-edited counterpart, Battle Of The Planets.)
And I still think that'd be a great idea. But that's apparently not what Symphonic Suite Gatchaman is. With the exception of a new arrangement of the Gatchaman theme song, and a couple of fleeting nods to Sakuma's style (but not his actual compositions), Symphonic Suite Gatchaman has nothing to do with the original music. It's a completely new, unrelated work. To say I was disappointed with this revelation would be an understatement.
Now, stepping back and trying to keep some objectivity, I did enjoy some of the music. And if someone was going to step in and rescore some of the original Gatchaman adventures with a large orchestral ensemble playing new compositions to keep the show more in line with major motion picture music…I could see this material fitting the bill nicely. It's not bad music in and of itself, though it suffers when compared to Sakuma's dynamic original cues. This stuff may be nicely arranged, performed and recorded, but it's bland by comparison – think of the difference between classic Star Trek music and the much more subdued sound of Star Trek: The Next Generation. And that comparison is sadly inevitable. I'm just not sure how accurate it was to bill it as a symphonic suite of the original music (which is at least implied by the album's title). It is a symphonic suite. I'll give it that much.
It's decent music, but considering that the album's billing had me primed to let a grand, sweeping reinterpretation of Bob Sakuma's original scores wash over me, Symphonic Suite Gatchaman is still a bit of a letdown. Think of it as "Music Not From, But Still Inspired By, Gatchaman," and you'll be okay.
Prologue: Introduction For The Story (2:41)
The Theme Of Gatchaman (3:42)
Lullaby: The Theme Of Red Impulse (6:14)
The Night Of Great City (0:58)
The Battle (5:05)
The Song Of Gatchaman (1:10)
The Theme Of Joe (3:27)
Elegy: Joe's Death (4:50)
The Theme Of Governor X (5:59)
Epilogue: Peace And A Premonition Of A Crisis (2:50)

Released by: Columbia / Sony
Release date: 2003
Total running time: 37:00