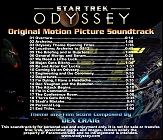 Just as I was mightily impressed with the debut installment of the Star Trek fan series Odyssey (see that review here), I was also impressed with its music – and lo and behold, San Francisco-based composer/multimedia producer Dexter Craig has made it available for free. I find myself missing the sound of the final frontier from time to time, and the Odyssey soundtrack hits the spot nicely.
Though it's synthesized, the music from Iliad is done in an orchestral vein, and nothing here is written in such a way that an orchestra couldn't theoretically play it. About half a year ago, I reviewed Dennis McCarthy's CD release of the music from the 1997 CD-ROM game Star Trek: Borg, and I commented on the quality of the synth-orchestral elements available at that time; the music from Odyssey is at least on the same level from a technical standpoint.
Musically, Odyssey is graced with a stately, noble main theme that can best be described as not a million miles away from the Star Trek: Voyager theme – not stunningly similar, but there's a definite resemblance in terms of feel. The Odyssey motif permeates the entire score, and unlike the Voyager theme, it's designed to play well in major or minor keys. As the ship's fate gradually becomes more dire, so too does its music – it's all done quite cleverly. One lengthy cue, "The Attack Begins", clocks in at just under ten minutes and puts the theme through quite a few permutations, as well as adding percussion that's both contemporary and feels a little "ancient" at the same time. "I'm In Command!" builds on that cue's momentum and begins throwing dark choral textures into the mix. For music that was made for an amateur film, it's not shabby at all.
The story's lighter moments are played well too. "Ro And Aster Get Lucky" accompanies a humorous/romantic scene with a piece that eventually breaks out into a tango. At the opposite end of the scale, the music for the scenes on the Archein homeworld and that race's ships is dark and brooding without going overboard.
Overall, it's well worth a listen, and quite a commendable effort. There are a few places where the music's synthetic nature is obvious, but as with the rest of Star Trek: Odyssey, this is a project done without millions of dollars, for the sheer love of it. In that context, it's good stuff and well worth the download time.
Overture (0:14)
Archeina (1:08)
Odyssey Theme Opening Titles (1:16)
Locations; Archeina To DS12 (0:45)
The Briefing And In Quarters (1:45)
General Morigu And Seram (0:28)
We Need A Little Luck (0:39)
Majan Gets Bitchy (1:36)
Ro And Aster Get Lucky (1:37)
Coming Up On Odyssey (0:40)
Engineering And The Ceremony (0;58)
Departures (2:53)
I'm Dying, I Have A Headache (0:35)
Doc Vaughan And The Romulan (2:28)
The Attack Begins (9:10)
I'm In Command! (2:58)
The Conference Room (3:08)
T'lorra Gets Bitchy (0:35)
Stadi's Mistake (0:41)
Personal Log (2:01)
End Titles (1:04)

Released by: DexFX.com
Release date: 2007
Total running time: 36:38
One final note, a sidebar to the above review: as I write this review of the Odyssey soundtrack, which was released free of charge, I've also been gathering other Star Trek fan films' soundtracks to review – and I've been watching a controversy kick up around another fan-made series, Star Trek: New Voyages/Phase II, which disturbs me deeply, as it involves dancing around wording regarding whether or not the film project is making any money (if Paramount is to continue to quietly turn a blind eye to the project, it can't make so much as a red cent). I have noticed – and I'm not going to drop names here – that there are a few composers who are charging for the music they've composed for these projects. I understand that sample libraries and the software and gear used to make music with them do not come cheap, but while I'm not going to try to tell them what to do, I would suggest that these composers – by flying in the face of the rest of the project of which their music is a part and trying to make a buck – may be recouping their money at the cost of putting the non-profit projects giving them exposure at risk. As an occasional amateur composer myself, I can tell you that the whole reason to attach oneself to a project such as a non-profit or student film – for which one isn't being paid – is to gain valuable exposure, possibly including exposure to producers who will pay you to work on commercial projects. As such, I will not be reviewing any "paid downloads" of music from otherwise non-profit fan films. I'll be happy to support the composers by giving them additional exposure through my reviews, but only if their music selections are, like the films themselves, free. – EG