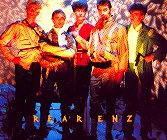 Collected here in one easy-to-grab chunk is the entire '80s career of Split Enz, courtesy of Mushroom Records. Normally I rail against labels reissuing the unpteenth iteration of a band's greatest hits, but since we're getting the whole albums here, I can honestly give you hearty recommendations for this set. My big gripe with the five original albums included in this 6-CD box set has nothing to do with sound quality – everything was cleaned up by Enz keyboard whiz Eddie Rayner for this re-release – but everything to do with packaging. When the Split Enz 70s box set was released, there was at least some attempt to retain the original LP artwork, front and back, in some form. Not so here – and I wouldn't be griping unless this omission involved the best back-cover art ever, Time & Tide's photo montage. Okay, so maybe that's something not everyone'll see as a problem, but it honked me off a bit. As I noted, had the same effort not been made for the 70s set, I would have shrugged it off more easily.
The real treasure here is the sixth disc, a bonus CD of non-album B-sides, demos and other rarities. Much more entertaining than the first box set's disc of extras, this one is a solid slice of studio material with no live cuts (and really, why bother when The Living Enz has this part of the band's career covered so well?). "Fire Drill" is an early Tim/Neil Finn collaboration (with Eddie Rayner getting a credit as well), and makes one wish that the Finn brothers had written more Split Enz material together – it's definitely hit material. "Next Exit", written by Tim and released as a stopgap single between albums in 1983, is another guilty favorite of mine – it's goofy as hell lyrically, and yet still listenable. Other Tim songs – "Big Heart", "Parasite", "In The Wars", "Remember When" – all have their own quirky appeal.
The real fascination here is the chance to witness – in an aural way at any rate – the evolution of songs that would later see release in other forms. Neil's "I Walk Away" is heard in two early forms ("Your Inspiration" and the surprisingly disco-fied "Love & Success", though portions of the latter became "Can't Carry On"), with drastic steps yet to be made in both lyrics and the structure of the song's melody itself. Even more revealing is Tim's "Mr. Catalyst", a jumpy dance tune which would be given entirely new lyrics and held back until his second solo album, Big Canoe, where it became "Spiritual Hunger" – though certain Eddie Rayner-penned instrumental breaks were lifted out of it completely and transplanted to Neil's "Years Go By" on the final Split Enz album to great effect. Rayner also contributes an instrumental number all his own, "Over Drive".
And the money shot of the Rear Enz bonus disc? Easy one – Neil's "Serge", a song dating back to his pre-Enz days in a band called After Hours (when it was titled Late In Rome). While it'd be easy to say that Rayner's synth-sampled strings make the song, it's a lovely example of Neil's early ballad writing. (And it's no surprise that it was a fan favorite in Crowded House's live shows.)
The first five discs in this set are also available separately and have been reviewed previously: True Colours, Corroborree, Time & Tide, Conflicting Emotions and See Ya Round.

Fire Drill (3:11)
Your Inspiration (3:27)
Parasite (2:44)
Next Exit (4:15)
Over Drive (4:17)
Serge (4:06)
In The Wars (4:08)
Love & Success (3:43)
Big Heart (3:41)
Mr. Catalyst (2:59)
Remember When (3:50)

Released by: Mushroom
Release date: 1992
Bonus disc total running time: 44:24