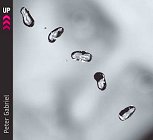 Peter Gabriel is such a busy performer, what with his occasional soundtrack songs (for such movies as Philadelphia and City Of Angels and his occasional soundtrack scoring (Long Walk Home, Birdy, Passion: Music For The Last Temptation Of Christ, etc.) and other projects which don't quite qualify as solo albums (OVO). And it's easy to forget, with all of that activity, that here we have a man who hasn't really released a solo album in a decade. Let's put that in perspective, shall we?
When Us was released, I was still working part-time in radio.
When Us was released, the fifth season of Star Trek: The Next Generation was still on the air, and it was still the only Star Trek series on TV. No one had ever heard of Babylon 5 or Xena.
When Us was released, the Persian Gulf War had been over for a year – or so many of us thought.
When Us was released, Britney Spears was still on the New Mickey Mouse Club, and Toad The Wet Sprocket was actually getting radio airplay.
When Us was released, I was in my 20s, not my 30s.
Now, bearing in mind that Up has been "just around the corner" since 1998 or so, there's a certain anticipation factor at work here as well. Given that Pete's soundtrack work in the past decade or so has been exceptional, most of his fans were eager to hear what it would be like when the man would actually open his mouth and sing again.
Up was either going to be nothing short of a spiritual revelation, or a total disappointment.
Actually, it's neither – it's a good album, certainly, but in some ways Gabriel has yet to match the diversity and virtuosity of 1986's So, the album which put him on the charts with "Big Time" and "Sledgehammer". There's a certain introspective murkiness that has dominated Gabriel's work, both solo and theatrical, since 1989's Passion, which was the project where he fell in love with Mediterranean soundscapes and instruments. There's nothing wong with that, but sometimes that atmosphere just doesn't lend itself to a great pop song like "Big Time".
Up opens with "Darkness", which smacks mightily of the first song on his third self-titled album. Almighty searing blasts of distorted guitar belie the song's true nature, which gets much quieter as it goes on despite a paranoid lyric that made sense with the blasting intro of the song. Things get a little more lively with the outstanding "Growing Up", which is a complex, jumpy tune in which two or three simultaneous lyrics occasionally overlap, especially in the last verse of the song.
"Sky Blue" is a quiet, ambient number (featuring guitars by none other than Peter Green) which had already been heard to a certain extent – a few tracks on Gabriel's soundtrack project Long Walk Home previewed the awesomely atmospheric backing vocals of the Blind Boys Of Alabama, though here the power of those vocals is somewhat diminished. I can't really explain, but on Long Walk Home, the Blind Boys came out of nowhere and made a quiet little cue a show-stopper; here, they're just echoing a melody that Gabriel's been singing throughout the song.
"No Way Out" is another quiet song with an alarming and arresting lyric – the simplest interpretation of which is that someone standing next to the person singing the song has been shot – featuring former Crowded House producer Mitchell Froom on piano and Gabriel himself on guitar (I could be wrong, but I don't think I've ever seen or heard of Pete playing guitar). Froom's presence is no surprise, as the entire album is mixed by Tchad Blake, who also lent a lot of atmosphere to the latter Crowded House albums.
The next track, however, makes "Sky Blue"'s recycling of vocals pale in comparison: "I Grieve", though a nice song (which almost feels like two wildly different songs glued together), was heard two or three years ago on the City Of Angels soundtrack. If anything, this is my biggest beef with Up – I was hoping to hear completely new material. "Sky Blue" I can handle – it was previewed on a soundtrack mere months before Up's release – but "I Grieve" is a few years older than that.
"The Barry Williams Show", a slightly dated pop number whose lyrics address Jerry Springer/Maury Povich-esque talk shows, has already been widely heard as the album's lead single. It's probably the most radio-ready song on the album, but its subject matter has passed its sell-by date, and one wonders how long ago it was written. Maybe around the same time as "I Grieve".
The next four songs may be the most interesting stuff on the entire album: "My Head Sounds Like That" (guest starring the uniquely spare brass sound of the Black Dyke Band, which made OVO's "Father, Son" the sentimental tear-jerker that it is), more of the Blind Boys of Alabama on the upbeat "More Than This" (not a remake of the Bryan Ferry song of the same name), the epic orchestral grandeur of "Signal To Noise", and the brief and surprisingly quiet closing number, "The Drop". The last of these four is quite a shocker compared to the rest of the album, as it primarily features Gabriel's untreated voice accompanied by an untreated solo piano (there are some other ambient-ish sounds in the mix too, but they're way down in the mix).
"Signal To Noise" features the wailing vocals of guest Nusrat Fateh Ali Khan, the strings of the London Session Orchestra, and the thundering wall of sound of the Dhol Foundation Drummers, but while the guest performers and the arrangement are very impressive, the basic melody itself and the sparse lyrics are almost like something out of Gabriel's second or third album; it's a simple song, nicely dressed up. And speaking of guest performers, I couldn't help but notice that Jon Brion got a credit in "More Than This" – seems that even though he can't get a major label to release that underrated (and finished) album of his, Brion's getting plenty of attention from other musicians. That may be a higher compliment than record sales anyway.
Overall, Up is yet another intense Peter Gabriel listening experience, but in some places it's curiously lacking the heart of his earlier works. And I'll admit, Gabriel's increasing tendency to borrow from his own back catalogue is becoming worrisome – this coming from someone who'd prefer to hear new material when he plunks money down on the counter for a supposedly new CD. Still, I recommend it – perhaps Up will be an instance of an album that finds new fans for Gabriel rather than living up to the wishes of his established listeners.
Darkness (6:51)
Growing Up (7:33)
Sky Blue (6:31)
No Way Out (7:53)
I Grieve (7:24)
The Barry Williams Show (7:16)
My Head Sounds Like That (6:29)
More Than This (6:02)
Signal To Noise (7:36)
The Drop (2:59)

Released by: Geffen
Release date: 2002
Total running time: 66:43