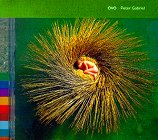 Far be it from Peter Gabriel to do anything conventional. Seemingly dormant since 1992's Us, Gabriel has participated in various other projects and has released world music albums by other performers on his RealWorld label, but is long overdue for another release of his own. Actually getting to hear the man's voice has been a rare thing over the past decade.
But in 1999, Gabriel was contacted to contribute to the musical theater presentation being planned for the Millennium Dome in London – a presentation Gabriel all but took over with the sprawling work presented on OVO.
To be sure, Gabriel's voice is not prominent on this collection, and depending on which pressing you're able to locate, OVO may not even be attributed to Gabriel except as composer. (He does, in fact, tackle the vocal duties on "Father, Son", "Make Tomorrow" and "The Tower That Ate People".) Other performers include Elisabeth Fraser, Neneh Cherry, and Ritchie Havens.
What kind of music is OVO? The answer is every kind. The first track segues from world music into rap in very short order, while the second is more ambient and quiet. Havens takes center stage on the lovely and contemplative "Time Of The Turning", a song about death and rebirth and perhaps even evolution (one of the themes of the OVO stage show). With its gentle orchestral backing set to a world music beat, "Time Of The Turning" is easily the highlight of the album. The same tune returns two tracks later as a wild, Riverdance-style jig which again blends a full orchestra with the primal pounding of the Dhol Foundation Drummers, achieving a stunning effect unlike anything I've heard before. About one minute before that piece ends, there's a euphoric burst of brass and percussion which always elicits a "Wow!" out of me – despite the fact I've probably listened to that track fifteen or twenty times. Eat your heart out, Paul Simon.
Gabriel follows this up with the heartfelt ballad "Father, Son", which managed to get me a little misty-eyed every time I hear it. Again, brass comes into play here, with a sentimental minimalist backing which reminds me a little of the small brass band in the title track from Crowded House's Together Alone.
The remainder of the album has a typically Gabriel sound, and the last track has an epic length.
I can't rate OVO highly enough – nor can I wait much longer for Gabriel's next solo album, which is supposedly right around the corner. If it's as good as the material on OVO, then maybe Pete's just now hitting his stride. And if it isn't… perhaps OVO and Passion: Music For The Last Temptation Of Christ are indications that Peter Gabriel's music may best be suited to some manner of visual experience…or, at the very least, his inspiration.
The Story of OVO (5:23)
Low Light (6:37)
The Time Of The Turning (5:34)
The Man Who Loved The Earth, The Hand That Sold Shadows (4:14)
The Time Of The Turning (reprise), The Weaver's Reel (5:39)
Father, Son (4:56)
The Tower That Ate People (4:49)
Revenge (1:30)
White Ashes (2:35)
Downside-Up (6:04)
The Nest That Sailed The Sky (5:06)
Make Tomorrow (9:58)

Released by: RealWorld
Release date: 2000
Total running time: 62:22