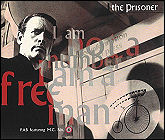 Produced with the blessing of Patrick McGoohan himself, this CD single is a lively remix/remake of Ron Grainer's immortal theme from The Prisoner. Sound clips from the original series are sprinkled liberally throughout the song and become an integral part of its rhythm.
The best of the three tracks is the first, clocking in at about three and a half minutes; all three tracks incorporate the same ideas, but the second and third tracks are twice as long… and neither uses the extra time to expand on the musical or thematic ideas significantly. The succinctness of the original mix is, frankly, the best thing about it. The original elements of the music itself are very much a product of the times: think of the theme song from Cops, and you'll have a good idea of the reggae-styled rap that kicks in about halfway through the song.
The best part of this remix is that someone really "got" the material. The clips are chosen well, and even the rap bit in the middle of the song dovetails thematically with The Prisoner's over-arching themes of
freedom, entrapment and rebellion. This is a cut above a lot of TV theme remixes where random clips are shoveled in on top of a 140bpm reworking of the original music – this takes the ideas behind the original material and runs with them – successfully, in my opinion.
The Prisoner (Free Man Mix) (3:20)
The Prisoner (Confidential Mix) (6:09)
The Escape (Solitary Club Mix) (6:10)

Released by: Telstar Records
Release date: 1990
Total running time: 15:39