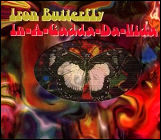 It's become one of the most recognizable rock riffs in modern history. The "dun-dun-da-da-dun-dun" is known the world over for its melody and heaviness. Although Iron Butterfly may be considered a '60s one-hit-wonder, their influence and musical stylings paved the way for today's heavy metal bands. But many people don't even realize that there was an entire album to go with that one song.
In-A-Gadda-Da-Vida, the album, was released in 1968. Most of the music follows the titular track in terms of composition: Heavy, distorted guitars, clear drumming, and intricate organ melodies. The album kicks off with "Most Anything You Want", a song which combines all of the aforementioned elements into a moderate rocker. "Flowers And Beads" probably could have been a hit had it been recorded by a band like The Monkees; a "light" (comparatively) tale about love. "My Mirage" is a moody piece set to a lead keyboard theme. "Termination" is another of the signature "hard" songs that Iron Butterfly was known for, and includes a good helping of overdrive. "Are You Happy" is another recording that prominently features the keyboards, and alternately sounds like Jimi Hendrix jamming with Emerson, Lake And Palmer.
But then there's the track itself: "In-A-Gadda-Da-Vida". And for those who haven't heard the full, 17-minute version, it's a beauty. It also contains an honest-to-God 2 1/2 minute drum solo (which nobody really does anymore, and certainly not for that long!). As a drummer myself, I found it very refreshing. Of course, after the solo, the guitars and keyboards kick back in to perform the now famous chorus and verse one more time.
The Deluxe Edition of this album released on CD contains two more versions of "In-A-Gadda-Da-Vida": another lengthy live version, and the much shorter single edit. Although it's a nice way to fill out the remaining space, they certainly aren't needed, and one wonders if other selections could have been chosen instead for the bonus material. Nevertheless, if you are a fan of rock music, psychedelia, or just someone who is interested in the origins of music history itself, In-A-Gadda-Da-Vida is not a bad choice to make.
Most Anything You Want (3:48)
Flowers And Beads (3:09)
My Mirage (4:54)
Termination (2:52)
Are You Happy? (4:30)
In-A-Gadda-Da-Vida (17:07)
In-A-Gadda-Da-Vida (Live) (18:52)
In-A-Gadda-Da-Vida (Single Edit) (2:54)

Released by: Atlantic
Release date: 1968 (re-released on CD in 1995)
Total running time: 58:10