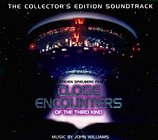 John Williams' first project after the universally-acclaimed Star Wars soundtrack couldn't have been much more different from George Lucas' space opera. Williams provided some very challengingly abstract music, as well as some wonderfully intelligent melodies, for Steven Spielberg's definitive UFO film Close Encounters Of The Third Kind.
It could be argued that, with the cacophonous bursts of atonal sound that occur frequently in the first half of the movie, Williams ventured into more mature musical territory than he did with Star Wars, but he also created plenty of memorable motifs, which took over the bulk of the score as Richard Dreyfuss' character embarked on a quest to find the truth.
Included on the CD is the complete end suite in which aliens and humans attempt to communicate with one another through a musical sequence almost sounding like dueling tubas. Though it has been re-recorded on various soundtrack collections (among them Silva's Space and Beyond), the original has a unique sound and stands out as one of the highlights of both movie and soundtrack.
The extensive final cue, which picks up when human test pilots volunteer to serve as "exchange students" – leaving Earth aboard the aliens' ship to learn about their culture – and continuing right on through the end credits, contains some of the most memorable and beautiful music ever created for a film. The gentle rendition of "When You Wish Upon A Star" surprised me when I first heard it, but it also fits perfectly, lending
an air of innocence to the benign alien encounter, a nice shift away from the abstract horror of the movie's first reel.
I can't recommend this soundtrack highly enough.
Opening – Let There Be Light (0:46)
Navy Planes (2:07)
Lost Squadron (2:23)
Roy's First Encounter (2:41)
Encounter At Crescendo Summit (1:21)
Chasing UFOs (1:18)
False Alarm (1:42)
Barry's Kidnapping (6:19)
The Cover-Up (1:26)
Stars And Trucks (0:44)
Forming The Mountain (1:50)
TV Reveals (1:50)
Roy And Gillian On The Road (1:10)
The Mountain (3:31)
Who Are You People? (1:35)
The Escape (2:18)
The Escape – alternate cue (2:40)
Trucking (2:01)
Climbing The Mountain (2:32)
Outstretch Hands (2:48)
Light Show (3:43)
Barnstorming (4:26)
The Mothership (4:34)
Wild Signals (4:12)
The Returnees (3:45)
The Visitors / Bye / End Titles: The Special Edition (12:31)

Released by: Arista
Release date: 1978 (special edition released in 1998)
Total running time: 77:21