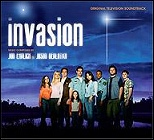 Promoted heavily going into the fall 2005 television season, Invasion seemed like the perfect stablemate for ABC's Lost. They both had running, peel-back-the-onion-layers mystery storylines, set in relatively affordable locations for production purposes. Invasion also had Shaun Cassidy on its side – the former pop star turned writer/producer had created cult hits before, including the creepy and much-loved American Gothic. Surely, sooner or later, Cassidy's way with plot and characters would hit one out of the park, and maybe Invasion would be the ball that went sailing over the fence. Right?
Not so fast. Mere weeks before its premiere, Invasion's premise – strange things going on in a Florida community ravaged by a gigantic hurricane – had its thunder stolen by the real-life Hurricane Katrina, which turned the vibrant city of New Orleans into something worse than any disaster movie had ever shown us. ABC yanked the show's promotion immediately, stealing Invasion's thunder; a series of frequent time slot changes seemed to indicate that the network was quietly hoping that Invasion and its potentially-insensitive hurricane plotline would vanish before it caused any controversy.
The series was rather gripping stuff, and it got a fascinating musical treatment from composers Jon Erlich and Jason Derlatka – a bit of a side gig for the duo that was also scoring every episode of another new series called House M.D. Erlich and Derlatka created a web of interlocking themes and compositions that fit the show's characters like a glove, from the solo string lament of alien-possessed Dr. Mariel Underlay (Earth: Final Conflict's Kari Matchett) to the menacing rumble of her husband, who was somehow behind the whole plan to give an alien presence a foothold on Earth, using the mayhem of the hurricane as a cover for their operation. The seamy underbelly of the south is always present, but so too is are blasts of orchestra – all the more surprising because the show wasn't wall-to-wall orchestra – signifying the alien presence in motion. Two conjoined tracks in particular, "Hybrids And Labor" and "Hurricane Approaching", are truly big-screen stuff.
Curiously missing is the ten-second burst of discord that stood in for opening titles (a case of ABC pushing too hard to mold Invasion into the perfect partner for Lost, which had a similar opening title treatment). Many of the tracks are exceedingly short by the standard of commercially-released soundtrack albums, but they also fade into the next track gracefully – unless you're watching the numbers on your CD player, you'd probably think you're listening to longer, continuous compositions.
Invasion amassed a cult following noisy enough to request/demand a
soundtrack release, but not a very big one: Swedish soundtrack boutique label Moviescore Media released only 1,000 copies of Invasion worldwide, one of the only pieces of merchandise that Invasion ever spawned (and it wasn't released until long after the series' cancellation). The soundtrack covers most of the key moments of Invasion's solitary season on television, and it holds up well even without the sweaty tropical visuals of the show.
The Lights (2:02)
Russ & Larkin (1:31)
Mariel Swims / They've Lost Their Mother (2:33)
Sirk's Abduction (1:37)
Szura (1:20)
The Rose (2:28)
Angel Mariel / Island Of Hybrid Castaways (2:55)
The Locket (1:14)
M.R.I. (2:10)
Hybrids In Labor (0:35)
Hurricane Approaching (0:38)
Couldn't Save Them (0:40)
Pria's Story (0:48)
Finding Mariel (1:57)
Emily's Theme (1:17)
There's A Boat Coming (3:11)
Kira & Sirk (1:38)
Hybrid Experiments (1:19)
Larkin Crashes (0:47)
Species Transformation (2:49)
The Battle (1:43)
Help Arrives (1:38)
Blogspeak (1:49)
Baby Steps (1:32)
Leon (2:20)
Last Moments (1:18)
Stalker (1:06)
Scrub It (1:45)
Larkin's Shower (1:29)
Evolution (3:25)
Human Genocide (0:57)
When They First Met (2:06)
Do You Care Now? (2:17)
Mob Rule / Moving Toward The Light (1:37)
Full Circle (2:58)

Released by: MovieScore Media
Release date: 2008
Total running time: 61:29