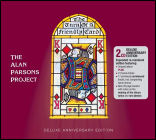 Time, as the hit single from this album croons, keeps flowing like a river, but the sight of a new 2-CD remaster of the Alan Parsons Project's The Turn Of A Friendly Card makes me feel like time is bearing down on me like an oncoming flood. It can't really have been 35 years, can it?
Indeed it can, and in that time The Turn Of A Friendly Card has already been remastered once, and deservedly so: while I Robot and Pyramid and the other early Project albums were nothing to sneeze at, there was some kind of harmonic convergence going on here, putting the right vocalists on the right songs at the right time to get massive radio airplay. "Time", sung by the late, great Eric Woolfson, and "Games People Play", sung by Lenny Zakatek, are immortal 1980s radio staples, and they've never sounded better. The remainder of the first disc is filled by the bonus material from the earlier remastered release.
The second disc, however, is completely new to this release, containing recently unearthed home demos – billed here as a "songwriting diary" – from the archives of the late Mr. Woolfson, who wrote all of the Project's songs (despite what any shared credit on the album sleeves might state). There are basically cleaned-up transfers of garden-variety cassette tapes that Eric Woolfson kept rolling as he sat down to discover and shape his songs at the piano, long before any of them went into a studio. For those interested in the process of songwriting, this is fascinating stuff, as we hear Woolfson travel down various unexplored avenues, occasionally landing on gold…and occasionally putting it in reverse and backing up to his original idea.
But the highlight of the second disc, and the real reason to buy this whole album one more time, is down to a single track: the unaccompanied orchestral backing track from "Time", which also includes backing harmony vocal overdubs performed by the late Chris Rainbow. This is, quite simply, one of the best orchestral backing arrangements that has ever graced a pop song, giving
what was already a gorgeous song incredible depth and power. I can listen to this one track over and over again (and I have done).
It's rare that I recommend something on the basis of a single track of barely two minutes' duration, but if you're already a fan of the Alan Parsons Project and/or a student of how music is put together (by masters of the craft), that track, and indeed the whole second disc, is worth the upgrade.
Disc One
May Be A Price To Pay (5:01)
Games People Play (4:23)
Time (5:09)
I Don't Wanna Go Home (4:59)
The Gold Bug (4:32)
The Turn Of A Friendly Card (Part I) (2:43)
Snake Eyes (3:17)
The Ace Of Swords (2:58)
Nothing Left To Lose (4:07)
The Turn Of A Friendly Card (Part II) (3:31)
May Be A Price To Pay (intro demo) (1:32)
Nothing Left To Lose (instrumental backing track) (4:37)
Nothing Left To Lose (Chris Rainbow vocal overdub compilation) (2:01)
Nothing Left To Lose (early studio version with Eric's guide vocal) (3:11)
Time (early studio attempt – instrumental) (4:42)
Games People Play (rough mix) (4:32)
The Gold Bug (demo) (2:50)

Disc Two
May Be A Price to Pay (Eric's Songwriting Diary) (3:26)
Games People Play (Eric's Songwriting Diary) (3:06)
Time (Eric's Songwriting Diary) (4:06)
I Don't Wanna Go Home (Eric's Songwriting Diary) (2:12)
The Turn of a Friendly Card (Eric's Songwriting Diary) (3:19)
Snake Eyes (Eric's Songwriting Diary) (3:13)
Nothing Left to Lose (Eric's Songwriting Diary) (2:46)
Turn Of A Friendly Card / Snake Eyes / I Don't Wanna Go Home (Eric's Songwriting Diary) (4:32)
May Be A Price to Pay (Early Version – Eric Guide Vocal & Unused Guitar Solo) (5:03)
Games People Play (Early version – Eric Guide Vocal) (4:32)
Time (Orchestra & Chris Rainbow Backing Vocals) (4:19)
The Gold Bug (Early Reference Version) (5:08)
The Turn of a Friendly Card Part 1 (Early Backing Track) (2:18)
Snake Eyes (Early Version – Eric Guide Vocal) (3:20)
The Ace of Swords (Early Version with Synth "Orchestration") (3:03)
The Ace Of Swords (Early Version with Piano on Melody) (2:40)
The Turn of a Friendly Card Part Two (Eric Guide Vocal and Extended Guitar Solo) (3:32)
Games People Play (single edit) (3:35)
The Turn of a Friendly Card (single edit) (3:44)
Snake Eyes (single edit) (2:26)

Released by: Sony / Legacy
Release date: November 13, 2015
Disc one total running time: 64:05
Disc two total running time: 70:20