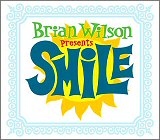 I can't possibly say something about the provenance and evolution of this album that hasn't been said elsewhere, and I don't have the musical knowledge to critique it professionally, so I won't try. I will, however make a few observations from the perspective of a music lover.
When was the last time you heard an album that you just didn't feel you could skip through? Smile is an album of pure Americana – very unfashionable, if not somewhat rude these days. But Smile neither sugar-coats nor apologizes for its theme. It's not nostalgia.
"Rock, rock, roll Plymouth Rock roll over
Ribbon of concrete – just see what you done –
Done to the church of the American Indian!"
or
"Who ran the iron horse?
Have you seen the Grand Coulee workin' on the railroad?"
Sentiments like these find easy perch among the America-basher subculture often found in hemp stores and the like, but that crowd will have a hard time embracing this album. Brian Wilson and Van Dyke Parks have created an album which embraces all of America – the good and the bad, the beautiful, the glorious, the oppressive, and the grim.
All of the songs are short. Of course the album was for the most part written in a time when singles had to be less than 3:30 to get airplay, but many of the pieces are around 2 minutes. And each piece is filled with changes in key, tempo, production sound, instrumentation, and even melody.
The song "Old Master Painter" is a solo cello introduction and single verse of "You Are My Sunshine" performed in a minor key through a vox box. At just over a minute in length, on any other album it would be a bridge piece. Here it's a scene in a sprawling mural. This is a true concept album, and the bridges occur in the songs themselves.
Musical influences? They're vast and varied. The entire album is sprinkled with the open harmonies which created the Beach Boys, but it would be more surprising if it weren't. One note – if you've heard Brian Wilson in the last 20 years, you've noticed that his voice has thickened. I don't know if the cause is drugs or just living. You can hear that thickness here. For that single reason, I think this album might have sounded better had it been recorded in 1966.
But listening to the album you hear Gershwin, Pink Floyd from the Syd Barrett days (there are some scary similarities to pieces like "Arnold Layne" and "See Emily Play"). Aaron Copland's influence is apparent, but that's almost a requisite for a musician toying with Americana.
There's also a surreal relationship which is hard to keep straight. You can listen to "I'm In Great Shape" and hear orchestration reminiscent of Supertramp, then you remember he wrote this a decade or more before Roger Hodgson. "Vega-Tables" has elements which are pure They Might Be Giants, but again this actually predates TMBG by 30 years. Come to think of it, a lot of this sounds like TMBG, both in song structure and lyrics, to wit:
"I threw away my candy bar and I ate
The wrapper. And when they told me
What I did, I burst into laughter."
This album could almost have been written by XTC, but Andy Partridge was barely out of diapers when it was written. And of course Partridge would be hard-pressed to write an album of Americana.
Lastly this album does one more thing that is perhaps unprecedented in pop music. It turns a song you've known your entire life into something completely different. "Good Vibrations" was always the final song of Smile, but we've come to know it as the single. As good a single as it is, when you listen to this album you come to realize the song was never complete. I can't think of another example of something like this. The version here is not substantially different from the version you've known. That song was always supposed to be in this album, and once you hear it in this setting you'll know it immediately.
Who would have thought Van Dyke Parks would be back in the forefront of music in 2004? Probably not even him. Brian Wilson and Van Dyke deserve all the attention they're receiving. They deserve the awards they're destined to receive for this landmark work, and they deserve to be very proud of this remarkable contribution to American music.
Our Prayer / Gee (2:09)
Heroes And Villains (4:50)
Roll Plymouth Rock (3:48)
Barnyard (0:58)
Old Master Painter / You Are My Sunshine (1:03)
Cabin Essence (3:31)
Wonderful (2:06)
Song For Children (2:16)
Child Is Father Of The Man (2:18)
Surf's Up (4:08)
I'm In Great Shape / I Wanna Be Around / Workshop (1:56)
Vega-Tables (2:20)
On A Holiday (2:36)
Wind Chimes (2:52)
Mrs. O'Leary's Cow (2:27)
In Blue Hawaii (2:59)
Good Vibrations (4:36)

Released by: Nonesuch
Release date: 2004
Total running time: 46:55