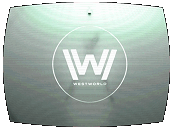 Vacationgoers flock to a futuristic, robot-populated amusement park, where, for a hefty fee, they can experience the dangers and delights of bygone eras – indulgences that tend to focus on sex, violence, or both. The robotic "hosts" are constantly maintained by a team of technicians, programmers, and scenario writers, and after each scenario reset, the robots' memories are wiped…or at least, that's the plan. Some of the robots begin exhibiting signs of a crippling existential awareness, to the point of total breakdown. It doesn't help matters that a black-clad visitor to the park has made it his mission to torture various robots to the brink of total failure, searching for a "deeper level of the game". As Dr. Ford, the creator of Westworld's robots, diagnoses a troubling case of this existential breakdown, the robot he is examining demonstrates a disturbing awareness of who, what, and where it is…and promises revenge upon its creators. Another robot, the oldest one in the entire park, returns to her existence as farmgirl Dolores Abernathy, but she too has experienced an awakening. Despite these and other failures, Westworld remains open to paying guests.
telepaly by Jonathan Nolan & Lisa Joy
story by Jonathan Nolan & Lisa Joy and Michael Crichton
directed by Jonathan Nolan
music by Ramin Djawadi

Cast: Evan Rachel Wood (Dolores Abernathy), Thandie Newton (Maeve Millay), Jeffrey Wright (Bernard Lowe), James Marsden (Teddy Flood), Ingrid Bolsø Berdal (Armistice), Luke Hemsworth (Stubbs), Sidse Babett Knudsen (Theresa Cullen), Simon Quarterman (Lee Sizemore), Rodrigo Santoro (Hector Escaton), Angela Sarafyan (Clementine Pennyfeather), Shannon Woodward (Elsie Hughes), Ed Harris (The Man in Black), Anthony Hopkins (Dr. Robert Ford), Louis Herthum (Peter Abernathy), Steven Ogg (Rebus), Michael Wincott (Old Bill), Eddie Rouse (Kissy), Brian Howe (Sheriff Pickett), Demetrius Grosse (Deputy Foss), Ptolemy Slocum (Sylvester), Leonardo Nam (Lutz), Kyle Bornheimer (Clarence), Bradford Tatum (Bartender / New Abernathy), Lena Georgas (Lori), Currie Graham (Craig), Timothy Lee DePriest (Walter), Jeff Daniel Phillips (Tenderloin), Bridgid Coulter (Mother of Young Boy), Regi Davis (Father of Young Boy), Mataeo Mingo (Boy of 8), Trevante Rhodes (Bachelor), Micky Shiloah (Bachelor), Keller Wortham (Bachelor), Olivia May (Hooker), Jackie Moore (Hooker), Alex Marshall-Brown (Hooker), Jeffrey Muller (Man on Train), Brook Kerr (Woman on Train), Bradley Snedeker (Passenger), Patrick Quinlan (Passenger), Bianca Lopez (Diagnostic Programmer), Molly Schreiber (Bachelorette), Stefanie Chin (Girlfriend), Joshua Sawtell (Controller), Nihan Gur (Female Laughing Host)

Notes: Actor Eddie Rouse (American Gangster, Pineapple Express), died of liver failure several weeks after filming his role in the Westworld pilot in 2014. The character of Kissy was meant to be a recurring role for him; the pilot episode is dedicated to his memory.
LogBook entry by Earl Green