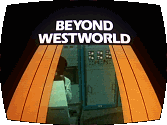 The rock band Power & Ruth has a loyal following and a social conscience, stopping to play an impromptu anti-nuke protest concert just outside of a nuclear power plant. But during that gig, someone breaks into the plant and steals uranium. A robot replica is suspected, and Delos once again puts Moore and Pam on the case. Posing as Power & Ruth's new PR agents, the two get to know each member of the band, trying to work out which member of the band or its road crew is most likely a uranium-stealing robot. In the meantime, Quaid awaits delivery of the uranium, which he plans to hand over to an unscrupulous Middle Eastern dictator who will have no qualms about using it as a weapon.
written by Martin Roth
directed by Paul Stanley
music by George Romanis
songs written and performed by Ronee Blakley

Cast: Jim McMullan (John Moore), James Wainwright (Simon Quaid), Connie Sellecca (Pamela Williams), William Jordan (Joseph Oppenheimer), Ronee Blakley (Ruth Avery), Lawrence Casey (Ryder), Dirk Blocker (Mace), Ed Bernard (Doctor), Rene Auberjonois (Power), Severn Darden (Foley), Ann McCurry (Roberta), Louis Welch (Bobby Lee), Robert Ayers (Spooner), Dewayne Jessie (Lingo), Sirri Murad (Hakim Fadar), Mary Carver (Head Nurse)

Notes: This was the final episode of Beyond Westworld aired by CBS; the show's dismal ratings were a threat to the remainder of CBS' Wednesday night schedule in spring 1980 (taken up by the CBS Wednesday night movie), and the series was yanked with only two additional unaired episodes (The Lion and Takeover) having been produced. Rene Auberjonois shapeshifted into the role of a rock star here, mere months before starting a regular stint on the sitcom Benson (and many years before starring in Star Trek: Deep Space Nine as Odo). Ronnie Sue Blakley had risen to stardom in the movie Nashville (1975), for which she was nominated for an Oscar; she later starred in A Nightmare On Elm Street (1984), and in between made numerous TV guest appearances in the likes of Highway To Heaven, The Love Boat, Vega$ and Tales From The Darkside. She had a very real recording career in addition to her acting career, releasing several albums between 1972 and 2012, and wrote and performed her own songs in this episode. Like her character here, she often played in support of political causes, including the presidential campaigns of Walter Mondale and Jerry Brown; unlike her character, she probably didn't run into any killer nuke robots.
LogBook entry by Earl Green