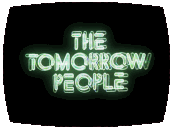 In deep space, Jedikiah floats through eternity for 500 years until rescued by the flamboyant captain of a passing spaceship, who supplies him with enough power to change his shape again. On the ship, a young boy is being held, a youth whose unique abilities are not unlike those of the Tomorrow People already encountered by Jedikiah, but he is kept from using those powers by the threat of a brain-sapping Medusa creature being unleashed upon him. Jedikiah, obsessed with revenge upon the Tomorrow People, harnesses the boy's gift for time travel. On Earth, time stops.
written by Brian Finch and Roger Price
directed by Roger Price
music by Dudley Simpson

Cast: Sammie Winmill (Carol), Nicholas Young (John), Peter Vaughan-Clarke (Stephen), Stephen Salmon (Kenny), Roger Bizley (Jedikiah), Michael Standing (Ginge), Philip Gilbert (TIM), Roger Booth (Robowski), Richard Speight (Peter), Dave Prowse (Android), Norman McGlen (The Medusa)

Notes: Yes, that's future Darth Vader David Prowse, as you've never seen him before, nearly in the buff and painted gold as Robowski's android servant. Both before and after his work on Star Wars, Prowse was a mainstay of British sci-fi monster suits, with appearances in Doctor Who, Space: 1999, and The Hitchhiker's Guide To The Galaxy.
LogBook entry by Earl Green