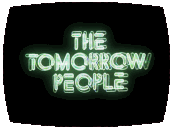 High in orbit above Earth, the Damocles space station acts as a deterrent to warfare on Earth. Crewed by the United Nations, Damocles' nuclear missiles are meant to provide any warmongers on Earth with a good reason to stop fighting. But the Doomsday Men have a plan to take over Damocles, and with it, the entire world.
written by Roger Price
directed by Roger Price
music by Dudley Simpson

Cast: Elizabeth Adare (Elizabeth), Nicholas Young (John), Peter Vaughn Clarke (Stephen), Philip Gilbert (TIM), Christopher Chittell (Chris), Eric Young (Lee Wan), Arnold Peters (Dr. Laird), William Relton (Douglas), Simon Gipps Kent (Paul), Nigel Pegram (Traffic Warden), Lindsay Campbell (Lieutenant General McLelland), Derek Murcott (Major Longford)

Notes: Much of the last third of the episode is tracked with Gustav Holst's "Mars, The Bringer Of War" from The Planets suite. The special effects model sequences are unusually ahead of their time in one respect: where most American contemporaries such as The Six Million Dollar Man or the TV movie Earth II kept using footage or model sequences of Apollo spacecraft, The Tomorrow Men uses a model of an early design of the Space Shuttle.
LogBook entry by Earl Green