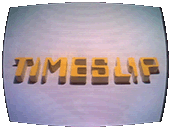 Youngsters Liz Skinner and Simon Randall, bored with the dull surroundings near the Skinners' vacation spot, go exploring the surrounding countryside, finding a place near an abandoned naval station where they hear an unusual sound all around them. Venturing onward, they pass through some sort of portal, stepping into the same place, but a different time – World War II, to be precise. Shortly after they see men who they're certain are speaking German, the two children are captured and taken to be questioned about what business they had near the naval station. When Liz recognizes their interrogator – from having met him in the future, later in his life – it only raises further suspicions. And then they meet a young sailor named Frank Skinner – Liz's father, long before she was born. The older Frank Skinner claims he had a mental breakdown during the war and can't remember what his role in it was…but his daughter is about to find out by being there.
written by Bruce Stewart
directed by John Cooper
music not credited

Cast: Cheryl Burfield (Liz Skinner), Spencer Banks (Simon Randall), Denis Quilley (Commander Traynor), Iris Russell (Jean Skinner), Derek Benfield (Skinner), John Alkin (Frank), Sandor Eles (Gottfried), Paul Humpoletz (Graz), John Garrie (Arthur Griffiths), Royston Tickner (George Bradley), Peter Sproule (Ferris), John Abbott (Phipps), Kenneth Watson (Dr. Fordyce), Virginia Balfour (Alice Fortune), Sally Templer (Sarah), Hilary Minster (German Sailor)

Notes: This episode is introduced by ITV's then science reporter, Peter Fairley, introducing the series' premise but cautioning that it is purely fiction. Eduard Salim Michael's classical piece "Rite de la Terre" is used as the series' theme song, but there is no incidental music during the story itself. Timeslip was originally recorded in full color, but only one episode remains in that format. The original color videotapes of the other episodes were wiped and reused (a common practice in the early 1970s), and we only have the remainder of the show to watch thanks to black & white film recordings created to sell the series overseas to broadcasters who were not yet transmitting in color.
LogBook entry by Earl Green