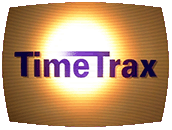 Darien and Selma track Sahmbi to Harlan, Kentucky, where Sahmbi has assumed the name "Hamilton Ishan" and has invited representatives of several companies, all of them with one thing in common: they each handle nuclear or otherwise radioactive waste. "Ishan" demonstrates a process that makes the waste simply vanish harmlessly…but Darien recognizes the process: Sahmbi is transporting the waste to exactly the same place in the year 2193, a future whose safer power has left the world without many experts in handling radioactive waste. Darien decides that all options are on the table in dealing with Sahmbi, but the law in 1993 says differently…and the judge before whom Sahmbi is brought is one of the future convicts he freed.
written by Harold Gast
directed by Colin Budds
music by Garry McDonald and Laurie Stone

Cast: Dale Midkiff (Darien Lambert), Elizabeth Alexander (Selma), Mia Sara (Annie), Jerry Hardin (Judge Benedict Choate), Henry Darrow (The Chief), Peter Donat (Sahmbi), Chad Tyler (Agent Hayes), Alan Fletcher (Davenport), Malcolm Cork (Stern), Steven Tandy (Deepthroat), Peter Marhsall (Foreman), Martin Maddell (U.K. Sergeant), Len Kaserman (Judge Braverman), Fred Steele (Judge Alford), Rhys Muldoon (Lawyer Fox)

Notes: Several months before his first X-Files appearance as Deep Throat, Jerry Hardin was already a familiar face to sci-fi TV fans. He had recently appeared in the fifth season finale and sixth season premiere of Star Trek: The Next Generation as Mark Twain, the second time he had played a character on that series. Ironically, there's an anonymous source identified in the guest starring credits as "Deepthroat" in this episode of Time Trax.
LogBook entry by Earl Green