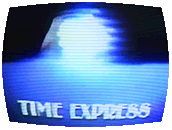 Passengers book tickets aboard a seemingly antique train called the Time Express, unsure of what to expect, arriving at a gate at a train station shrouded in mystery. An elderly couple, Jason and Maggie Winters, greet them aboard the train and remind them of the rules: they can relive the past, or even change it, but they must return to the present aboard the train at the end of their experience. Millionaire Edward Chernoff boards the train, not to change his fortune but to change how he used it, while a doctor whose young wife needs a bone marrow transplant must go back in time to find her birth family, as her adoptive parents don't match her as donors.
written by Gerald Sanford
directed by Arnold Laven
music by Richard Hazard

Cast: Vincent Price (Jason Winters), Coral Browne (Maggie Winters), Woodrow Palfrey (Ticket Agent), William Edward Phipps (E. Patrick Callahan), James Reynolds (R.J. Walker), James MacArthur (Dr. Mark Toland), Jerry Stiller (Edward Chernoff), Pamela Toll (Olivia Toland), Michael Conrad (Sullivan), Alan Sues (Bank Manager), Anne Meara (Gloria Chernoff), Doris Dowling (Sister Bertelli), John de Lancie (John Clayton), Eldon Quick (Niles), Jan Clayton (First Nun), Del Monroe (First Gangster), Richard Angarola (Mr. Durant), Don Keefer (Jim Fraser), Wallace Earl Laven (Virginia Fraser), Bob Delegall (Dr. Samuels), Gay Rowan (Sister Allison), Melvin F. Allen (Mel), Buck Young (Police Clerk), Michael Laurence (First Reporter), Charles Rowe (Second Reporter), John Berwick (Nick), Dar Robinson (Lou), Karen Fredrik (Debbie Clayton)

Notes: If NBC's Supertrain was "The Love Boat on a futuristic train", Time Express on CBS was "Fantasy Island on a time-traveling train". Veteran Hollywood writers Ivan Goff (1910-1999) and Ben Roberts (1916-1984), who had been working together since the 1940s, had written such screenplays as The Man Of A Thousand Faces and Portrait In Black, then went on to create the successful TV series Charlie's Angels in 1976. CBS had previously tapped them as the head writers on the short-lived TV adaptation Logan's Run. Time Express would last only four episodes on CBS' schedule. John de Lancie, long before he became Star Trek's Q, had already appeared in The Six Million Dollar Man and Battlestar Galactica, among others, at this very early stage in his career, while Gay Rowan had been one of the "three young people" (according to the opening narration) trying to discover the destination of The Starlost in the early 1970s.
LogBook entry by Earl Green