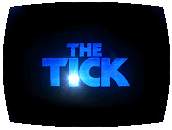 1908: An alien artifact of unimaginable power plummets through Earth's atmosphere and explodes over a forest in Tunguska, Russia. The emissions from this unearthly explosion imbue some humans with superpowers…and also serves as a beacon to others. Both superheroes and supervillains are now a part of life on Earth.
20 years ago: Young Arthur Everest witnesses the crash-landing of a spacecraft crewed by superheroes…pursued closely by a spacecraft full of supervillains. Incidentally, the crashing spaceship also crushes and kills Arthur's father before his very eyes. A photographer captures a shot of Arthur being menaced by the supervillains' leader, The Terror.
Now: Years of medication, treatment, and legal issues have left Arthur a barely-functional adult. Convinced that the Terror still lurks somewhere nearby, controlling the criminal underworld, Arthur has devoted his life to tracking the Terror down…despite the rest of the world insisting that the Terror was killed by a superhero known as Superian. Arthur follows one of his hunches to the city docks, spying on a criminal operation, when he is confronted by a superhero in an inadvisably tight blue suit – the Tick! The Tick seems certain that Arthur is destined to be his new sidekick. And Arthur may finally get the answer to the question that has consumed his life – is the Terror still alive? – unless befriending the Tick gets him killed first.
written by Ben Edlund
directed by Wally Pfister
music by Chris Bacon

Cast: Peter Serafinowicz (The Tick), Griffin Newman (Arthur Everest), Valorie Curry (Dot Everest), Brendan Hines (Superian), Jackie Earle Haley (The Terror), Yara Martinez (Ms. Lint), Kyle Catlett (young Arthur), Joanna P. Adler (Dr. Creek), Malachi Weir (Thug #2), Christian Navarro (Sidekick), Whoopi Goldberg (herself), Richie Moriarty (Mr. Everest), Andrew Dolan (Officer Dietz), Sonam Kunlingtse (Herder), Henry Yuk (Shaman), Berto Colon (Thug #1), Siraj Huga (Cab Driver)

Notes: The half-hour pilot episode of The Tick restarts the story, completely separate from the previous live-action series starring Patrick Warburton (who is a producer of this series), the animated series that inspired it, or the comics that inspired all of the above. The Tick creator Ben Edlund returns to revamp his unlikely hero for a new decade, and a new distribution channel: this pilot was distributed free as part of Amazon's Pilot Season event in 2016, winning a series pickup later that year.
LogBook entry by Earl Green