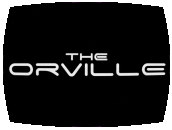 The Orville receives a garbled distress call, apparently from a passing comet on a death dive into a nearby star. Ed leads a shuttle mission to rescue the sender of the distress call, the sole occupant of a ship crashed on the comet's surface, but the close proximity of the star nearly makes it a one-way trip. He returns to the Orville with Pria Levesque, the captain of the crashed mining ship, though something about her story bothers Kelly. A check of the doomed ship's manifest reveals no one aboard named Pria, but Ed is unconvinced that anything's wrong. By the time enough evidence piles up to convince Ed otherwise, it's too late – Pria is in control of the Orville.
written by Seth MacFarlane
directed by Jonathan Frakes
music by John Debney

Cast: Seth MacFarlane (Captain Ed Mercer), Adrianne Palicki (Commander Kelly Grayson), Penny Johnson Jerald (Dr. Claire Finn), Scott Grimes (Lt. Gordon Malloy), Peter Macon (Lt. Commander Bortus), Halston Sage (Lt. Alara Kitan), J Lee (Lt. John LaMarr), Mark Jackson (Isaac), Charlize Theron (Captain Pria Levesque), Larry Joe Campbell (Chief Newton), Norm MacDonald (voice of Yaphit), Rachael MacFarlane (Computer Voice)

Notes: For the second time, a Star Trek veteran is behind the camera for an episode of The Orville (former Star Trek: The Next Generation star-turned-director Jonathan "Riker" Frakes), and the show boasts an A-list movie actor, though unlike Liam Neeson's appearance earlier, Charlize Theron's appearance was heavily promoted in the week before air.
LogBook entry by Earl Green