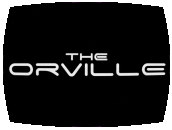 Thanks to a visiting archaeologist, the Orville crew gets a rare glimpse of a recently unearthed time capsule of items left untouched since the year 2015. As Bortus and Klyden revive a long-lost addiction thanks to Moclans' susceptibility to nicotine, Gordon becomes fixated on reviving a cell phone and examining its contents. Once the property of a woman named Laura, the phone is a repository of early 21st century life on an intimate level. Gordon is fascinated enough to have the computer synthesize a holographic simulation of Laura's life based on the contents of her phone – every text, e-mail, video, photo – and when he meets what the computer extrapolates to be the real Laura, he's smitten, almost to the point of neglecting his duties. Meanwhile, as Dr. Finn races to concoct an antidote to Moclan nicotine addiction, she has ordered Bortus and Klyden to stop smoking…and among Moclans, withdrawal symptoms may include bursts of extreme violence.
written by Seth MacFarlane
directed by Kelly Cronin
music by John Debney

Cast: Seth MacFarlane (Captain Ed Mercer), Adrianne Palicki (Commander Kelly Grayson), Penny Johnson Jerald (Dr. Claire Finn), Scott Grimes (Lt. Gordon Malloy), Peter Macon (Lt. Commander Bortus), Jessica Szohr (Lt. Talla Keyali), J Lee (Lt. John LaMarr), Mark Jackson (Isaac), Chad L. Coleman (Klyden), Leighton Meester (Laura Huggins), Tim Russ (Dr. Sherman), Norm MacDonald (Yaphit), Darri Ingolfsson (Greg), Sarah Scott (Trisha), Ajay Vidure (Karl), Stacy Highsmith (Melissa), Rachael MacFarlane (Computer voice), Chris Muto (Male guest)

Notes: Tim Russ is the latest Star Trek alumnus to appear on The Orville; he starred as Tuvok for all seven seasons of Star Trek: Voyager, and has more recently been seen in Supergirl and the fan-funded Star Trek: Renegades project.
LogBook entry by Earl Green