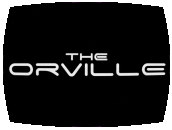 The process of search for Alara's replacement has finally settled on another Xelayan security officer, Lt. Talla Keyali, though Mercer still seems apprehensive about anyone stepping into Alara's shoes. Commander Grayson and Bortus discuss holding a joint birthday party, an idea whose merits she seems unable to sell Bortus on. A radio signal from a distant planet – "is anyone out there?" – signals an imminent first-contact situation, but despite the initial introductions going smoothly, the Orville crew's hosts suddenly hold them at gunpoint and have Grayson and Bortus sent to an internment camp, all because a casual mention of their imminent birthdays means that they fall into a star sign that this society's astrologers consider extremely dangerous. Mercer and his new security chief try to parlay for their officers' release, while Grayson and Bortus become resigned to the fact that any escape attempt will surely only prove that they are dangerous and violent.
written by Seth MacFarlane
directed by Robert Duncan McNeill
music by John Debney

Cast: Seth MacFarlane (Captain Ed Mercer), Adrianne Palicki (Commander Kelly Grayson), Penny Johnson Jerald (Dr. Claire Finn), Scott Grimes (Lt. Gordon Malloy), Peter Macon (Lt. Commander Bortus), Jessica Szohr (Lt. Talla Keyali), J Lee (Lt. John LaMarr), Mark Jackson (Isaac), Chad L. Coleman (Klyden), Ted Danson (Admiral Perry), Chris Johnson (Cassius), Mike Henry (Dann), John Rubinstein (First Prefect), Niko Nicotera (Rokal ), Jennifer Landon (Ukania), Robert Curtis Brown (Chief Advisor Makkal), Heather Horton (Science Prefect), Marie-Francoise Theodore (Advisor #2), Gigi Hessamian (Physicist), Meredith Thomas (Nurse), Matthew Foster (Regorian Doctor), Arriane Alexander (Regorian Doctor #2), Erica Shaffer (Obstetric Surgeon #1), Brandon Young (Obstetric Surgeon #2), Carlos E. Campos (Obstetric Surgeon #3), Carlos Arellano (Burly Man), Evan Angone (Cameraman), Chet Grissom (Aide), Julienne Irons (Prisoner), Blesson Yates (Topa), Kyra Santoro (Ensign Turco), Charles Maceo (Camp Guard #1), Cory Tucker (Camp Guard #2), Chad T. Wood (Warden), Jack Kennedy (Military Security Guard), Thai Edwards (Holding Cell Guard), Troy Vincent (Man in Lab Coat)

Notes: There's in interesting Star Trek connection in this episode's cast-of-almost-thousands: actress Julienne Irons played Lt. Uhura in the earliest episodes of the fan-made series Star Trek: New Voyages.
LogBook entry by Earl Green