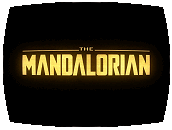 On the run from just about every bounty hunter and Imperial remnant in the business, the Mandalorian brings the newly liberated child to the backwater planet Sorgan, an agrarian planet far from interplanetary trade lanes. At the nearest local watering hole, a customer worries him: someone who's clearly equipped for a fight, which he promptly gives her when she tries to get the jump on him. She is an ex-Rebel named Cara Dune whose services have been less in demand since the fall of the Empire. When the locals try to hire the Mandalorian to take care of a problem they're having with raiders, he takes the meager amount of money offered and uses it to hire Cara to help him deal with the problem. But when they discover that the raiders have a leftover (but fully functional) Imperial Walker at their disposal, the job is suddenly much more dangerous than they bargained for – and it now entails the Mandalorian using his personal arsenal to arm an entire village against an enemy with significant technological superiority.
written by Jon Favreau
directed by Bryce Dallas Howard
music by Ludwig Goransson

Cast: Pedro Pascal (The Mandalorian), Gina Carano (Cara Dune), Julia Jones (Omera), Isla Farris (Winta), Asif Ali (Caben), Eugene Cordero (Stoke), Tiffany Thomas (Sorgan Farmer #3), Aydrea Walden (Sorgan Farmer #4), Trula Marcus (Sorgan Farmer #5), Sala Baker (Klatoonian Raider Captain), Ida Darvish (Common House Proprietor)

Notes: The furry creature that menaces the child in the opening scenes is a Loth-cat, a species native to the planet Lothal, the setting for much of the animated series Star Wars: Rebels. This is the first time a Loth-cat has been rendered as a "photo-real" (but still very recognizable) creature.
LogBook entry by Earl Green